What's a title tag? It's the HTML on a webpage that shows in a browser tab and in Google's search results: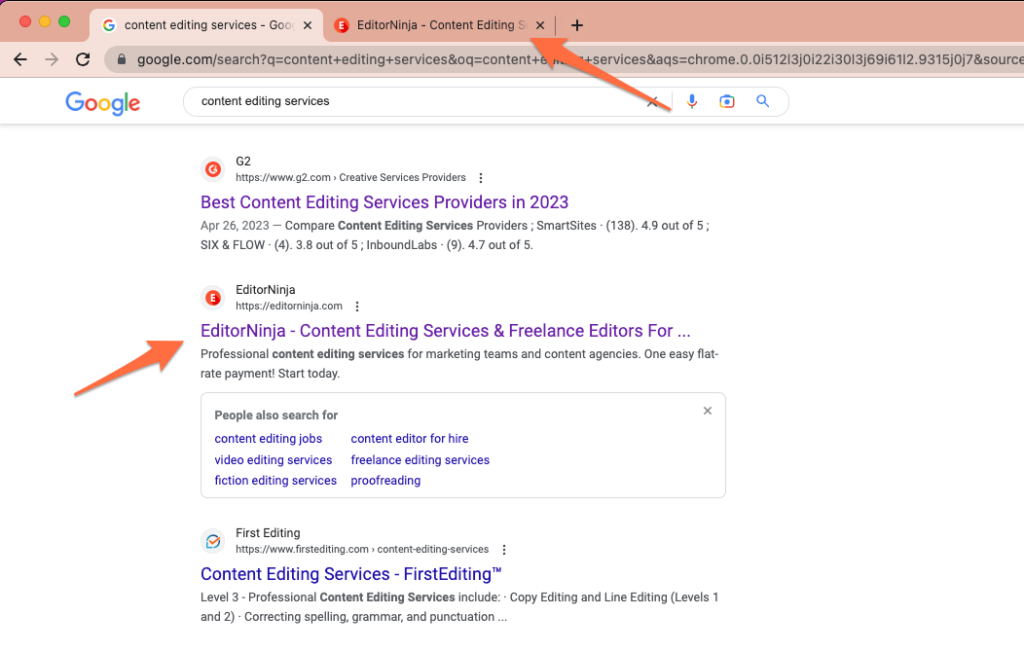 Writing title tags that attract clicks is a skill in and of itself. While SEOs use title tags to optimize pages for SEO properly, copywriters have long fought to have title tags that are well-crafted and that people want to read.
It's a familiar tension — SEOs want keywords, and copywriters want compelling copy that gets clicks.
The two should be on the same team because the ultimate goal is the same: get more rankings and more visitors to the site. SEO and copywriting are like peanut butter and jelly, not oil and vinegar.
So how do you write title tags, and therefore H! headings, that can rank and attract clicks at the same time?
Here are 7 ways:
Keep Them Short and Focused
Add Numbers and Years
Use Your Main Keyword Appropriately
Consider Dropping the Brand Name
Keep Grammar and Punctuation Consistent and Proper
Make Them Unique from All Other Pages
Lean on Intrigue
Keep Them Short and Focused
Title tags should be concise and fit within Google's length parameters. Currently, in 2023, this is approximately 55 characters, or up to about 600 pixels. According to Moz, the SEO software tool company, "If you keep your titles under 60 characters, our research suggests that you can expect about 90% of your titles to display properly in the SERPs."
A good title tag serves two purposes for searchers, which can help them click through to your page:
Tell them what the page is about
Intrigue them enough to get them to click
Ideally, you want them to see your title tag and say, "I think this one is going to help me accomplish my goals." Whether it's looking for specific information or hiring a service, the ranking page should match their intent.
Common intents are commercial (looking to buy), informational (looking for information), or navigational (looking for a brand or to accomplish something specific, like logging into their banking platform).
Of course, once you get the searcher to your page, you want them to click around and take the next step, so tricking them into clicking and then not delivering (or having a slow-loading page, or a lot of ads, or a lot of other things) isn't good.
Add Numbers and Years
When people are looking for information, science shows us that they like a finite amount of things to learn and they want up-to-date information.
So, adding the number of things they'll learn and the current year (with updated information of course) is a great way to entice them to click.
For example, instead of "how to write title tags," I've titled this article "7 Ways to Write Title Tags that Attract More Clicks (in 2023)."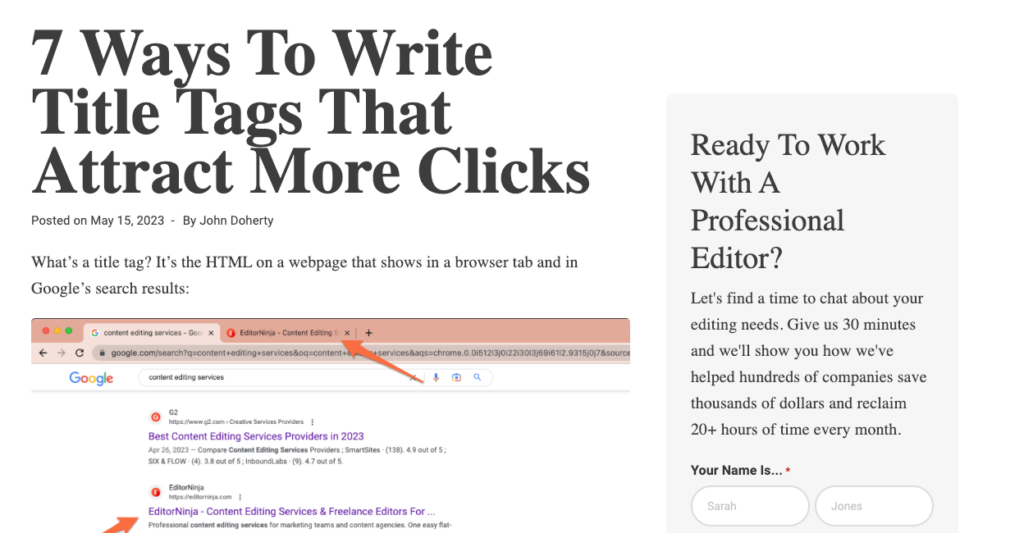 We'll rank just as well as "how to write title tags," but people who see this article in Google's search results (maybe that's you!) are much more likely to click the one with numbers and the year.
One quick note: The current year is as close to a "hack" as we get in SEO in 2023. It comes with a requirement though — you need to keep the content up to date as well if you update the year. While it's true that rankings will maintain year to year by just updating the year in the title, readers will be frustrated if the content is out of date.
So, if you use this trick, you should be committed to actually updating the content every year, maintaining and updating statistics, and maybe even adding entirely new sections.
Use Your Main Keyword Appropriately
Title tags should both describe what the visitor will find on the page and address SEO concerns, specifically using the keyword or keyword phrase that the page is targeting for ranking purposes.
While this is less important in 2023 than ever before, because of Google's ability to recognize semantic language and brands/entities, using your main keyword in your title tag is still a best practice.
Here's an example of how we do it for the EditorNinja homepage, which targets the term [content editing services]: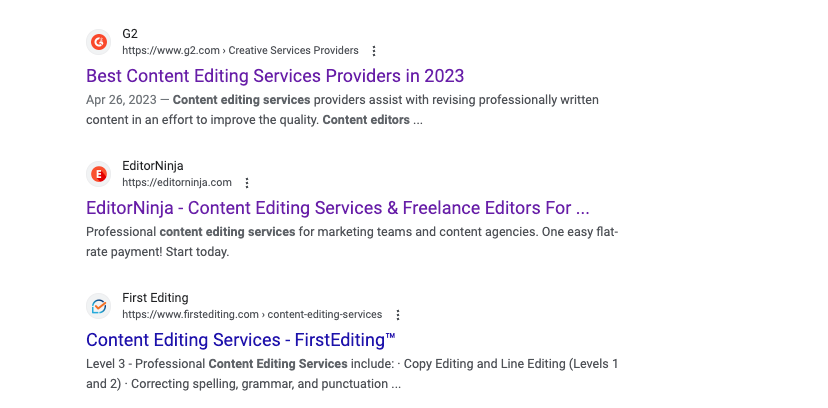 Consider Dropping the Brand Name
Search engines are always making changes to their search result layouts, and one change in March 2023 led to Google showing fewer brand names in title tags because they are now showing them on the listing itself.
To use the example above, we at EditorNinja could probably drop the "EditorNinja" from the front of our homepage title tag, because Google is already showing our brand name in the listing on desktop search results: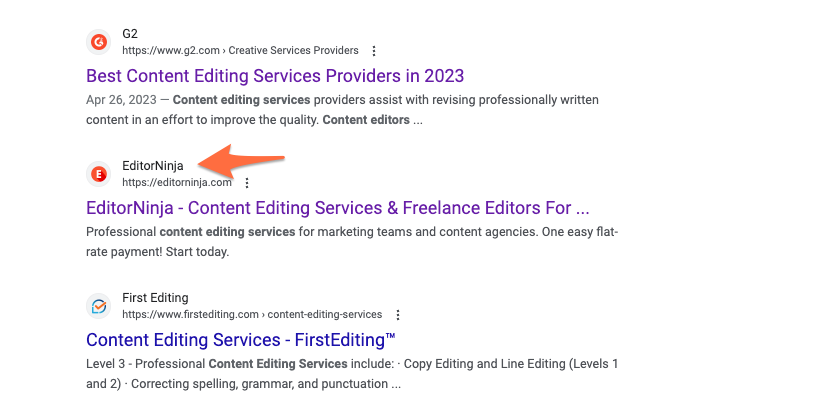 Keep Grammar and Punctuation Consistent and Proper
We know from studies that punctuation and grammar matter, including that 74% of shoppers notice spelling and grammar errors, and "59%reported that bad grammar and spelling mistakes would stop them from making a purchase."
The same is true for title tags. Spelling mistakes are a real no-no, but formatting errors that are off-brand or look out of place will also kill trust.
There are generally two main ways to format title tags:
Sentence case: You'd write something like this
Title Case: You'd Write Something Like This
Haphazard punctuation, like "You'd write Something Like this," will negatively impact your clickthrough rates and likely conversions from those visitors as well.
Make Them Unique from All Other Pages
Title tags should be unique for every page. It is very common to see multiple pages with the same title tag on a website, but this hurts each page's ability to rank as well as a searcher's ability to find the information they are looking for.
I like to joke with people, semi-seriously, that when Google is given the option of making a choice between two different pages, they'll almost always choose the "wrong" one, aka the one you don't want them to choose.
On very large websites, it can be difficult to make sure all title tags are unique, so focus your energy on your most important pages, the ones targeting keywords that are high volume and high intent to convert. Over time, as you have the bandwidth for SEO maintenance, tackle others to reduce as much technical SEO debt as possible.
One easy way to monitor duplicate title tags is to set up a Site Audit project in Semrush, as they automatically monitor this — and many other potential errors —for you every week.

Lean on Intrigue
Finally, the best title tags toe the line between description and intrigue.
What I mean by this is that the searcher should get enough from the title tag to know what it's about, but not so much that they don't need to click to learn more (and hopefully take the next step).
For example, "Unlimited Graphic Design." That's what Design Pickle does: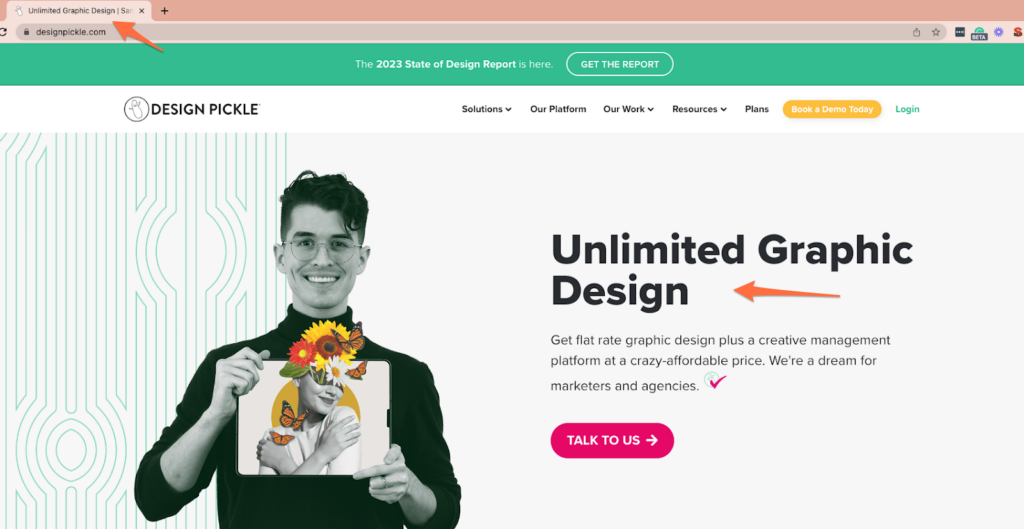 Most people understand what "graphic design" is, at least conceptually. But most don't understand the "unlimited" model (which is also EditorNinja's model).
By virtue of their business model, someone searching "graphic design" or "graphic design services" who comes across Design Pickle will say two things to themselves:
They do graphic design
What do they mean by "unlimited?"
From there they'll click and learn more.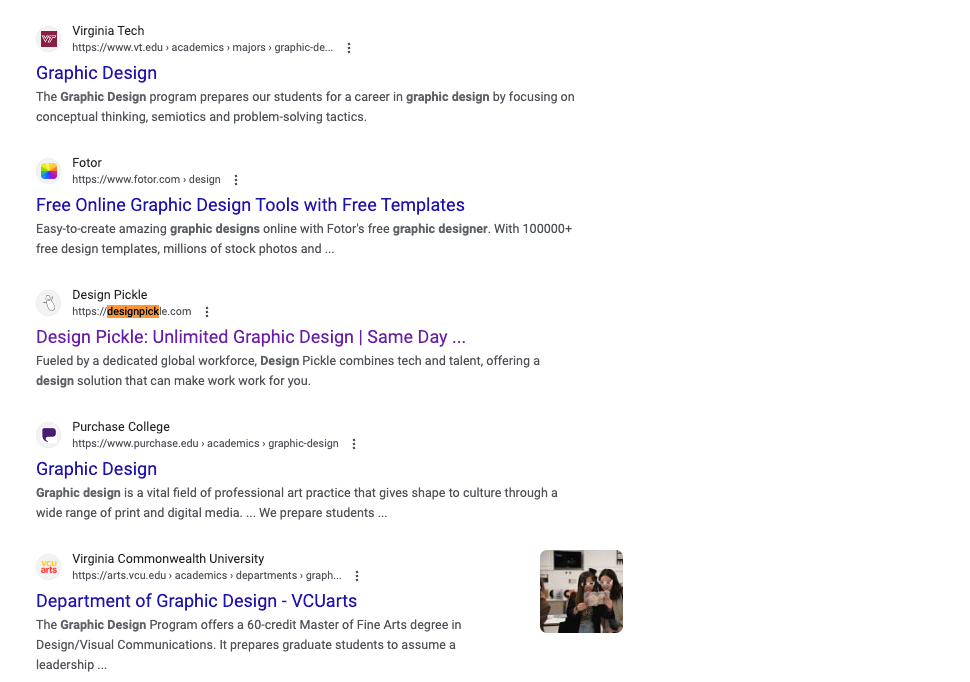 A Few More Questions About Title Tags
There are a few more things worth mentioning about title tags — so that you can make sure you're properly optimizing your pages for SEO as well as visitors.
The Difference Between Title Tags and H1 Tags
Understanding the difference between title tags and H1 tags is important when building a web page and optimizing it for search engines.
In a nutshell:
Title tags are a piece of code that goes in the <head> section of a web page and appears in Google's search results as well as in a browser tab
H1 tags are within the <body> tag and are usually the largest text element on the page.
For example: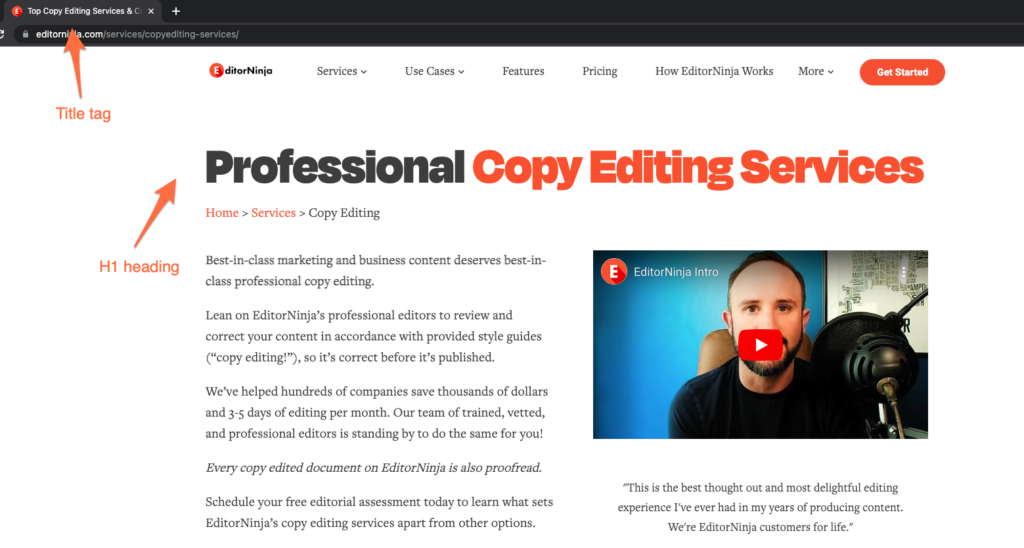 The Proper Way to Write a Title Tag in Code
Here is the proper way to write a title tag in code:
<title>Top Copy Editing Services & Copy Editors For Hire – EditorNinja</title>
How Many Words Should a Title Tag Be?
A title tag can be any length, but the optimal length is 55-60 characters or about 600 pixels. Character count is flexible because different characters have different pixel widths, but following this general guideline will help your prescribed title tags appear in Google's search results more often without being cut off with an ellipsis. 
Need Help with Title Tags?
If you're creating content for SEO and need help making sure it's both free of errors and formatted correctly, leverage EditorNinja's professional content editing services with our SEO formatting add-on. Not only will we correct your copy for grammar and clarity, we'll also format your content for SEO following our proprietary expert-created SEO formatting add-on.
Click here to schedule a free editorial assessment and see how we make outsourcing editing easy.