When you need a document professionally edited quickly, EditorNinja's single document editing services are here. Submit your document today and have it back as soon as tomorrow, ready to go.
When you use EditorNinja, our editors will fine-tune your copy to ensure it's on brand, whether for your brand or your clients, and mistake-free.
Every EditorNinja editor is MFA-trained, meaning they're qualified to take your content to the next level.
Every document on EditorNinja receives our world-class treatment of copy editing, proofreading, and editing for clarity and consistency so that it truly shines.
Submit your first document today and see how our services stand out above the rest.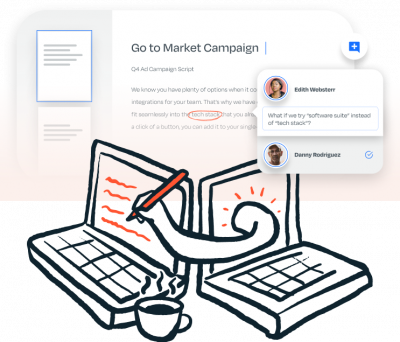 Easily submit new documents to EditorNinja for editing.
Request as many revisions as you like for each document.
Delivered ready to publish
Receive your ready-to-publish document into your inbox in 1-2 days. It's kind of like magic.
Step 1: Submit Your Content
Add your document to EditorNinja. Our easy-to-use intuitive uploading process makes it easy to submit your document and check out.


Step 2: Your Editor Edits Your Document
Every day our editors show up to work through their queue of content. 
Your editor will make a copy of your original document and make all of their edits on Suggesting mode in Google Docs.
Once they're done, they'll QA their own work and submit it to EditorNinja QA to complete our double-QA process. This ensures you receive the best edited document possible.
Step 3: Your Ready-To-Publish Document Comes Back
Once our double-QA process is completed, we'll return your document to you via email.
You'll receive:
Your original document.
The document with all of the editor's edits.
A clean ready-to-publish copy with any remaining editor comments for you or your writer.

You Have Questions, We Have Answers
Isn't that better?
EditorNinja - get your document professionally edited fast.
Have questions before you upload your first document?
Book a call with our team to learn more.
"This is the most thought out and delightful editing experience I've ever had in my years of producing content. We're EditorNinja customers for life."Daniel S., happy EditorNinja customer