From time to time in business you will be sent a PDF and need to edit it. This can be a frustrating experience if you don't know how to make a PDF editable and then update it.

This article will cover how to edit a PDF document on your computer.
There are a few main ways to edit a PDF:
Using Adobe Acrobat
In Google Docs itself
Using a plugin for Google Drive
All of this said, the only true way to really edit a PDF in the full sense of all text is to use Google Docs and then resave it. If you simply want to mark it up to send back for edits, either Adobe Acrobat or the Drive plugins mentioned below work well also.
How to edit a PDF with Adobe Acrobat
Because PDF as a document type is originally an Adobe creation from co-founder John Warnock's The Camelot Project, it makes sense that PDFs can easily be edited by using Adobe's suite and specifically their app Acrobat DC.
Acrobat has been around for a long time, mostly in its original PDF Reader utility but more recently as a cloud-based software suite where you can also edit PDFs.
You can get a full monthly subscription which runs $12.99-$14.99 per month (as of time of writing; live page is here) depending on if you need all your devices:
If that doesn't make sense for you, Adobe does have an online based "PDF editor" which allows you to add comments/sticky notes, text, and drawings.
Here I've selected my PDF on that page: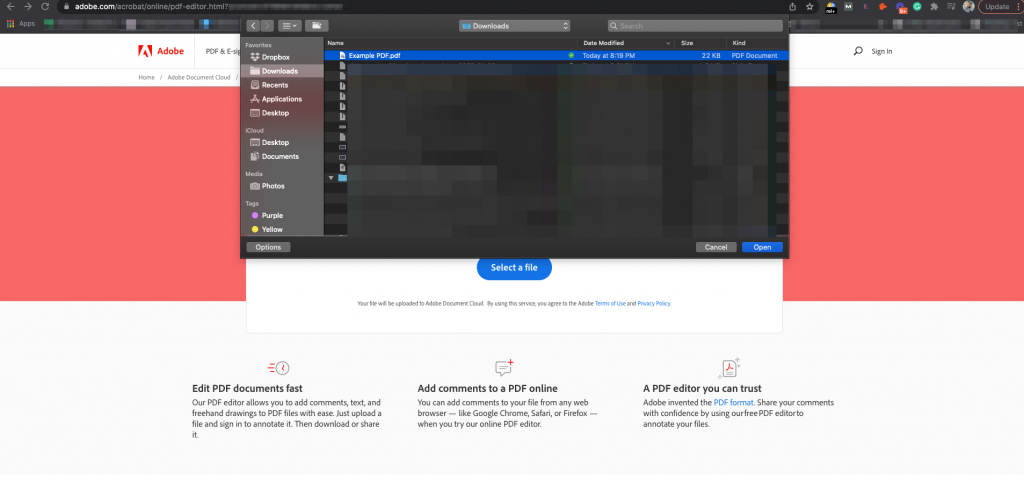 Then they asked me to continue with a login I have. I chose Google: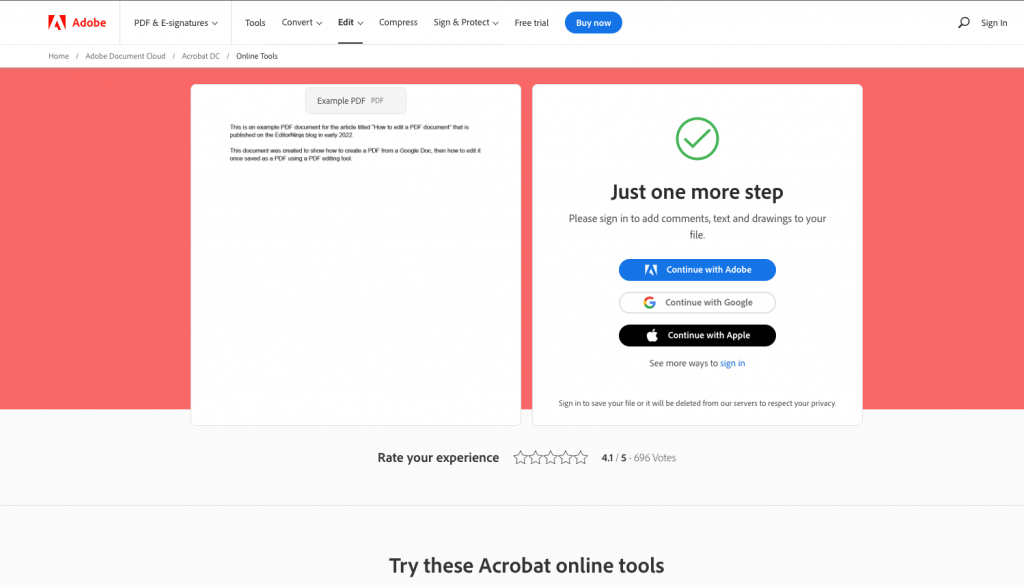 After a few clicks, I was finally taken to my document within their Document Cloud where I can leave comments:

I can cross through text: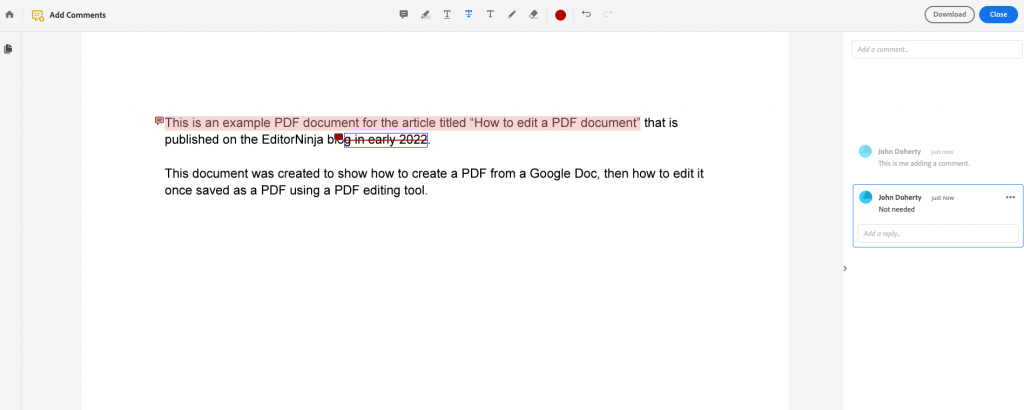 And I can even "draw" on it, such as leaving my signature: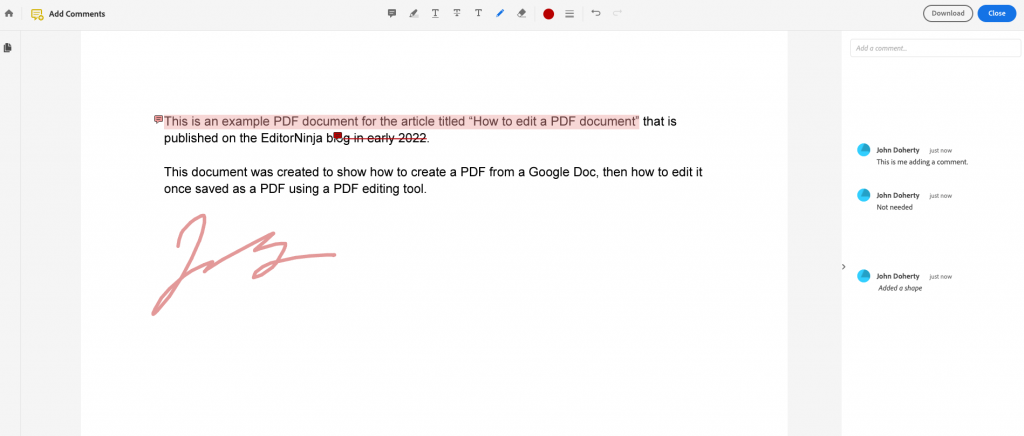 How to edit a PDF in Google Docs
If you don't have Adobe Acrobat and don't want another subscription (some of you may have it with your workplace which is great, but there are many many people who need to edit PDFs and don't have a license), Google Docs is going to be your solution.
I've been around Google for a long time, with my former career before becoming an entrepreneur being full time in Search Engine Optimization. So, you could say that I know a lot more about Google than a lot of people.
But I have to admit that I am often still impressed by Google and how they constantly innovate in order to make the lives of their users easier, which also of course helps them take on competitors (in this specific case, Adobe) and get more market share.
Google has therefore made it extremely easy to actually edit PDFs in Google Docs. As far as I can tell, you can even do this with a free Gmail account and Google Drive. I've repeated the steps below in both my free personal Gmail as well as my EditorNinja paid Google Workspace (previously Google Apps) account just to make sure that they both work!
First upload (or add) your PDF to your Google Drive by using File Upload under the "+New" button and then selecting the document: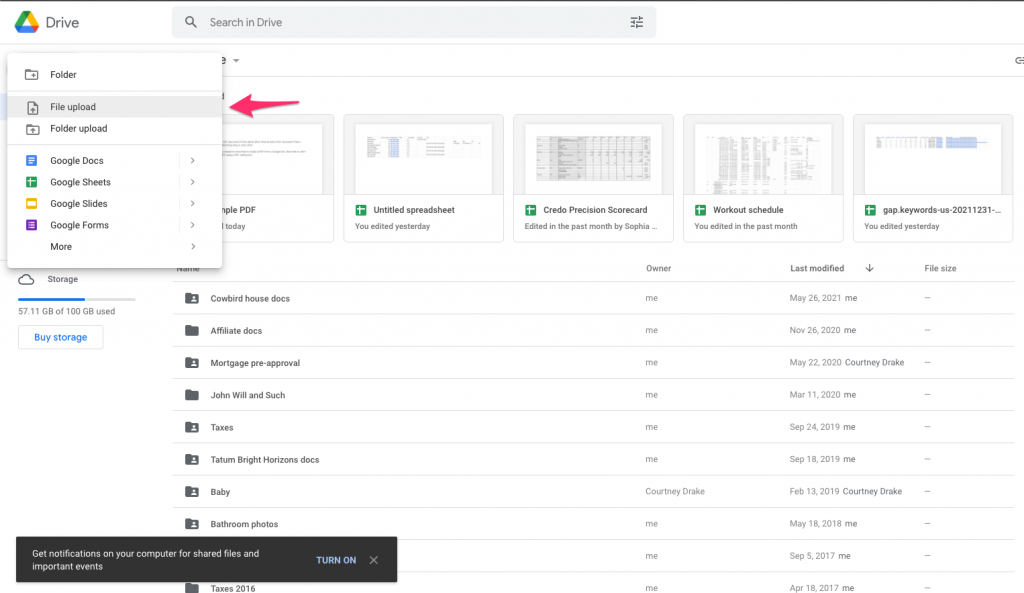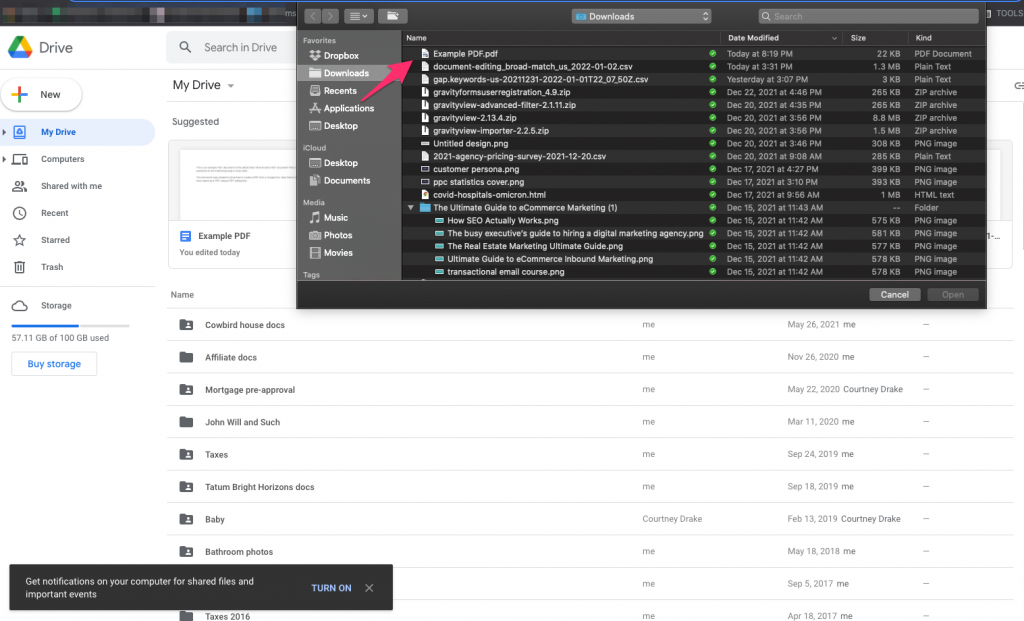 Then double click the file and select Open With -> Google Docs: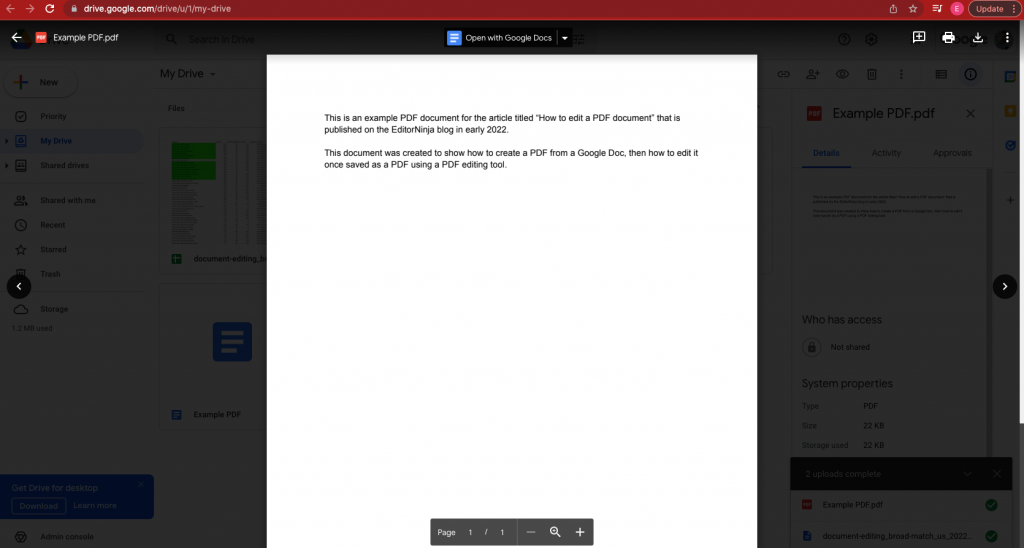 Then your document will open as a regular Google Doc, where you can edit to your heart's content.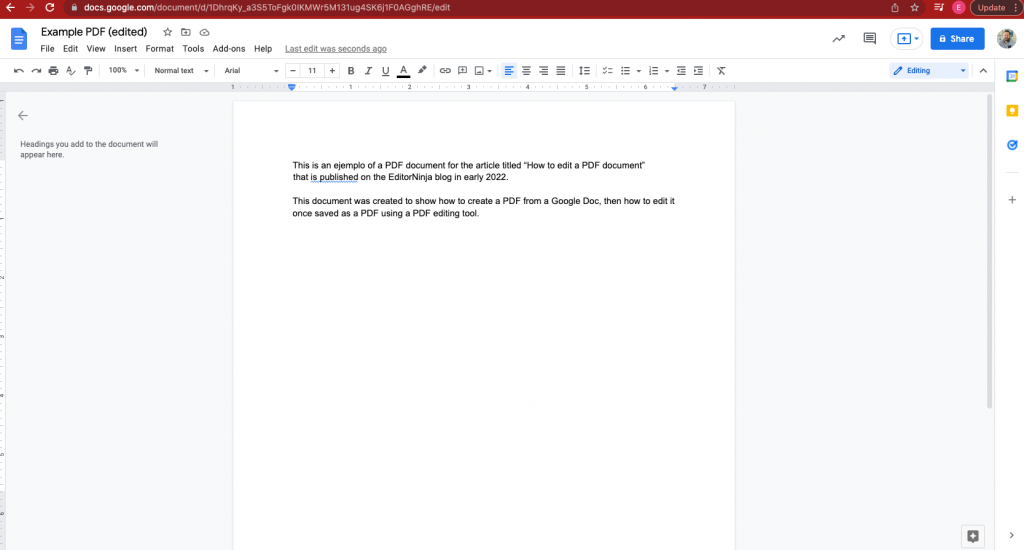 Once you're done, I recommend renaming the document and then saving it as a PDF: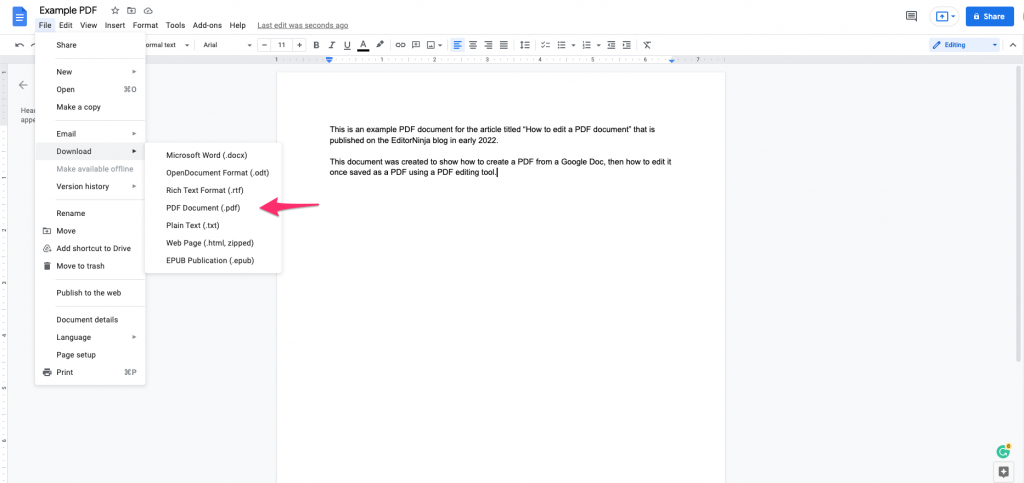 And voila, you've edited your PDF using Google Docs and then saved it as a PDF again!
How to edit a PDF with a Google Drive plugin
A second way to edit a PDF is within Google Drive using a plugin. While there are many Drive PDF editing plugins out there, the most common are:
If you just need to sign a PDF in Google Drive, you can also connect HelloSign, DocuSign, and others assuming you are using Google Workspace, which is what Google Apps for Business has been rebranded to.
Editing a PDF with a Google Drive plugin is straightforward once you have your setup completed and know where to look.
For purposes of this article, we are going to use DocHub as our editor.
After your PDF is in your Drive, double click on it to bring up this view: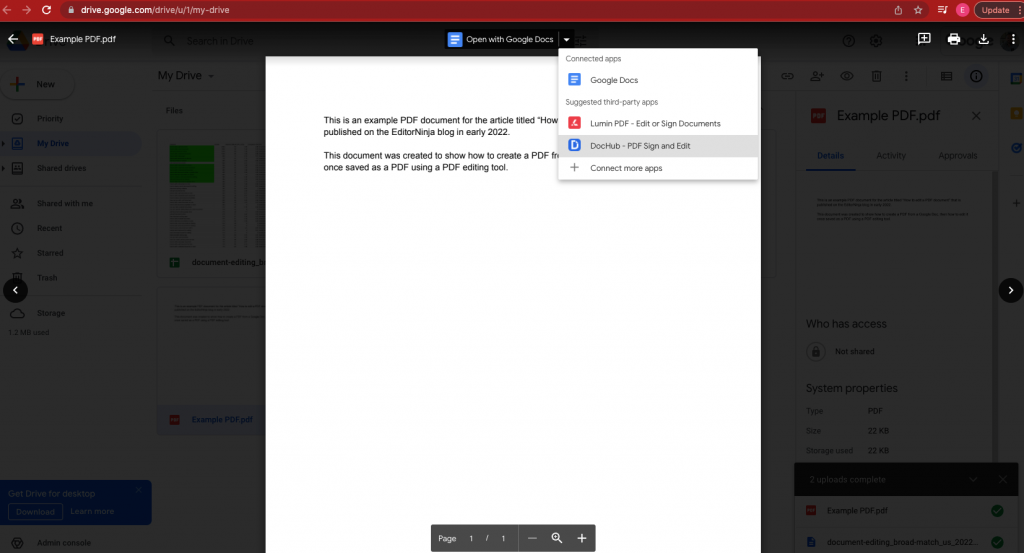 Click "DocHub" (or LuminPDF if you prefer). You will then be asked to grant permissions to the email of your choosing (I chose my EditorNinja email):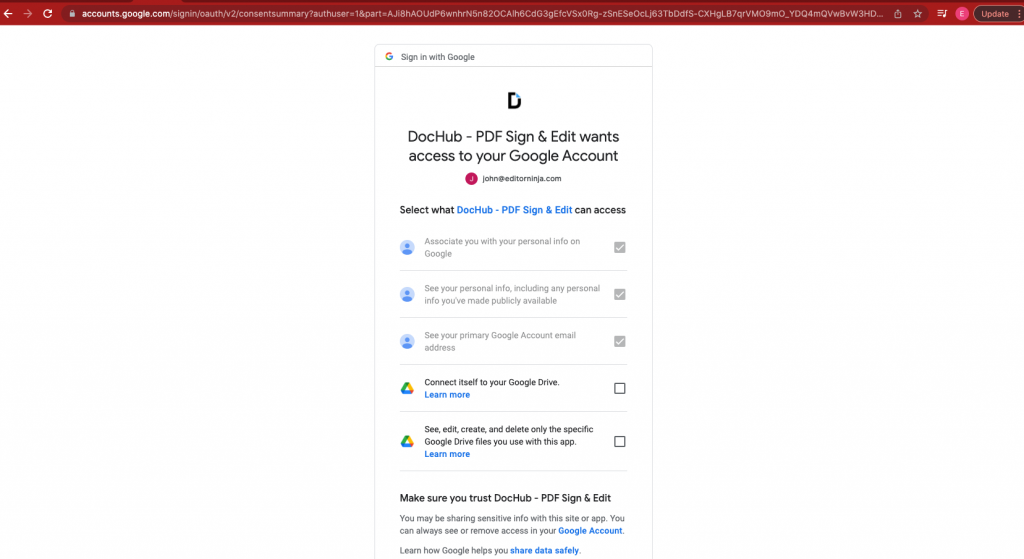 Now you're able to edit your document and do things like add a signature, highlight, etc. It is important to note that you are not able to edit the text in the PDF. Once again, this is by design to protect the content in a document like a contract!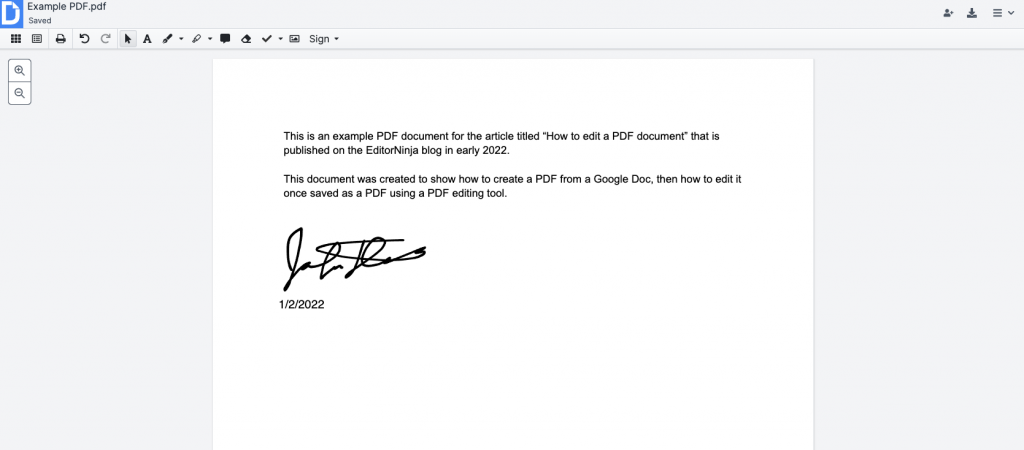 As you can see, plugins like DocHub or LuminPDF are great for adding things to a PDF but will not enable you to edit the core content.
To do that, you must use either Acrobat or Google Docs.
What does PDF stand for?
If you're not aware, PDF stands for "Portable Document Format". It is a file format that was created by Adobe in 1991 originally to, according to Adobe, "give [sic] people an easy, reliable way to present and exchange documents – regardless of the software, hardware, or operating systems being used by anyone who views the document." PDFs were created to make it easy for anyone anywhere to receive a document and print it.
PDF is now an open standard that is maintained by the ISO (International Organization for Standardization) and allows links, buttons, form fields, audio, video, and much more.
PDFs are commonly used for contracts because they are seen as more secure than widely editable document types like .doc, .docx, or others. While this may not be true any longer, it is still a commonly held belief and thus PDFs are still the standard for contracts online.
Why PDFs so hard to edit?
PDFs are hard to edit because, inherently, they were not made to be edited! Remembering that they were originally created to be sharable, not editable, software has had to come along and the standards have had to be updated to allow PDFs to be updated.
Now multiple softwares make it quite easy to edit a PDF document, including Adobe's own Acrobat DC.
Why you should be careful when editing a PDF
PDFs are widely used as a standard for contracts because they are seen as not being editable. Of course, since you're reading this then you know that they are indeed editable.
That should give you pause, but also not keep you from using PDFs as a format for contracts and such. You just need to take some extra precautions.
First, if you are going to edit a PDF you should make sure that the originating party intended for that to be done. Editing a PDF without their knowledge will break trust and if it is a contract will likely void the contract. Conversely, if you send a PDF to be signed you should always review it once it is sent back to you before signing or assuming that the deal is done properly.
Secondly, it is notoriously hard to carry over all parts of a PDF including tables, rich content like links, and so one when a PDF is converted from PDF to another format (such as Microsoft Word's .docx format) for editing and then back. If you do this, make sure that all elements convert correctly. This is also why Adobe allows for editing directly within Acrobat DC.
Editing a PDF
So there you go, how to edit a PDF in Adobe Acrobat (and annotate/leave notes/etc) or Google Docs (full editing including changing text!) or a Google Drive plugin such as DocHub or LuminPDF.