Blogging is a great way to build an audience online, whether you're doing it for personal reasons or for a business.
But a blog post that doesn't get read is a sad blog post, so you need to make sure that your blog posts get found and read.
Before you really start thinking about promotion and getting an audience there, you first need to consider what you'll be creating and why someone should read it in the first place.
To create the perfect blog post, you must take the following into account in every post:
Is the topic something my future audience cares about?
Does the post provide the best answer on the internet for the topic?
Is the post formatted well to make it readable, both for a quick skim and a deep read?
Does the post offer the reader a next step, if they want to take it?
Topic
A good blog post for your blog is one that covers a topic important to your audience. There are many ways to find topics to write about, and it doesn't need to involve just brainstorming a list of questions people might be asking!
The top ways to find topics to write about are:
Research what people are searching in Google by using the Google Keyword Planner, free Chrome extensions like Keywords Everywhere, or paid tools like SEMrush;
Pay attention to what customers are asking you in your support queue;
See what your competitors are already ranking for or creating content around, using SEMrush;
Once you've begun gathering a list of topics, I then like to put them into a spreadsheet (I prefer Google Sheets because they're accessible from any computer) with the following columns:
Topic/keyword
Blog post title
Blog post URL
Monthly search volume
Stage of funnel (top, middle, bottom)
Here's an example: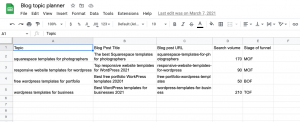 Click here to make a copy of the template.
The best answer
Next, you need to provide the best answer to the topic on the internet.
Is it a large topic (like [how to make a wood bench]) that requires a lot of steps? Then you're going to need to write a lot on the topic, including steps around preparation, picking the right kind of wood, measurements, cutting, assembly, staining, and so on and so forth.
A simple "5 ways to make a wood bench" blog post just isn't going to rank well, drive traffic, and accomplish your ultimate goals for the post.
How long should a blog post be?
There are a lot of bloggers out there showing that "ideal" content lengths for blog posts ranking in the first position in Google is ~2,500. This post from HubSpot says the following, according to their data:
The ideal blog post length should be 2,100-2,400 words

Source

While that may be true in aggregate, and I am always in favor of longer blog posts because they tend to provide better and more complete answers for the topic, do not tell yourself that your post must be at least 2,100 words or else it's not enough.
Write the post that needs to be written, but make sure you take into account what other blog posts you will be competing with are doing.
Ask yourself:
What keywords are they targeting?
Is their information original or repurposed?
How long is it?
What is it missing?
Formatting
The perfect blog post that provides the best answer on the topic of focus will also include most if not all of the following:
Lists
Images
Quotes
Video
Headings (h1, h2, h3, etc)
Not only does this provide a great reading experience for a user, but proper formatting is also imperative to SEO so that your post can rank well in search engines and drive consistent traffic into the future.
Your title should be your H1.
Main subpoints should be H2s.
Subpoints under subpoints should be H3s.
And so on.
Providing next steps for the reader
You can write all the words and drive all the traffic in the world, but if that traffic doesn't convert into revenue then why are you doing it?
We write blog posts to drive a specific need forward. If you're writing a personal blog then maybe it's to grow your email list so you can monetize that down the road. A secondary goal might be to build an audience on the site and social media so that, once again, you can monetize down the road (or immediately).
When blogging for a business, the goal is ultimately to drive audience that become customers. This takes many different shapes and requires different strategies, including:
Direct conversions to signup (free trial or other)
Converting to your email list (with the goal of them becoming a customer after some education-based marketing)
On Credo, a lead magnet prompt looks like this:
Promotion
There are many ways to promote a blog post, and the best promotion starts while writing by doing proper topic research and writing the best answer to the topic that anyone can find on the internet.
Writing discoverable content is the best way to promote it online.
But that's table stakes, so after you do that how do you promote it?
Here are some ways:
Syndicate it to Medium (in an SEO-friendly way)
Share on social media, especially Twitter and LinkedIn (if B2B content)
Schedule 3-4 more social updates for the coming days (we use MeetEdgar)
Put $10-$15 in promotion behind it on Facebook with a boosted post
Share on your Instagram feed and story (and tag others to share!)
Consider a weekly newsletter to share your new content.
Mention it on podcasts and in guest post (to build backlinks back to it for SEO)
Content marketing is not just about creation. That's the "content" part. The "marketing" part is when you promote it.
Conclusion
Now that you know how to create the perfect blog post, what will you create?