When you're investing in content marketing and publishing consistently, you'll eventually come to a point where remembering what is publishing and when, along with your promotion schedule, becomes unwieldy and cumbersome.
In that case, you need a content calendar to keep your head on straight and help you get maximum results for your content marketing efforts.
So when do you need one, and how do you create one?
When you need a content calendar
A content calendar is needed when you're publishing enough content each week and month that important tasks such as promotion start to fall through the cracks and it feels like you're just on a content treadmill, publishing for the sake of publishing, instead of focusing your efforts on driving the business forward.
While you may be incrementally increasing traffic to your website because you're producing content optimized for SEO, dramatically increasing the amount of content you're publishing has been shown many times over to increase your audience and therefore your business faster.
Less frequent publishing probably doesn't need a content calendar
When you're just publishing one or two pieces of content a week (or a month…), it's pretty easy to keep track of what is publishing and when. And when you're first starting out with content marketing and blogging, just being consistent is the best way to establish the habit and start gaining an audience that you train over time to expect new content on a regular cadence.
In fact, for the first 2.5 years of my own personal blog I published a new post every Tuesday and Thursday without fail. Over time, my traffic grew to a substantial amount:

More frequent publishing and promotion needs a content calendar
Once you start publishing more than a piece or two of content per week, and you're trying to work ahead of schedule so that you're not left blogging the night before a post is supposed to go out, it's time to get a content calendar going.
Why?
To begin, once you have 4-6 pieces of content being worked on at a time and ready to be scheduled, it becomes extremely hard to keep straight in your head on what date which piece should be published.
For example, my current queue on EditorNinja:

At one point in the past, I had six posts scheduled and was flipping back and forth from current piece to queue to try to find the date on which the new piece should be scheduled to publish. There have been times in the past where I accidentally published two pieces on the same day!
A content calendar is a good idea because creating the content is somewhere between 20-50% of the entire effort. There are marketers who say that you should spend 4x as long promoting content as you do creating it, but when you put in 3-4 hours creating a piece it's simply not feasible to spend another 15-20 just promoting it! When you're producing even a few pieces a week, that quickly becomes a full time job and many of us do not have a full time writer or pay the bills by just creating and promoting content.
But the point stands that you can't just create content, hit Publish, and expect the traffic to come flooding in. You have to promote it, and if you know when a piece is publishing (via your content calendar!) it's must easier to know which piece of content to promote on which channels and when.
How to create a content calendar
Now that you're creating a volume of content and need to organize it so you get the most mileage out of every piece of content, it's time to create your content calendar.
But where to start?
There are commonly three ways a content calendar is done:
In Google Sheets or Excel
As a Google Calendar
Inside software
Content Calendar Spreadsheet
A spreadsheet is usually the first place companies start when creating a content calendar. I've personally always found them cumbersome because I want them to look like an actual calendar and I've spent more time formatting the calendar than actually managing the content, but for others a spreadsheet can be a great way to manage a content calendar.
Here's the format most use: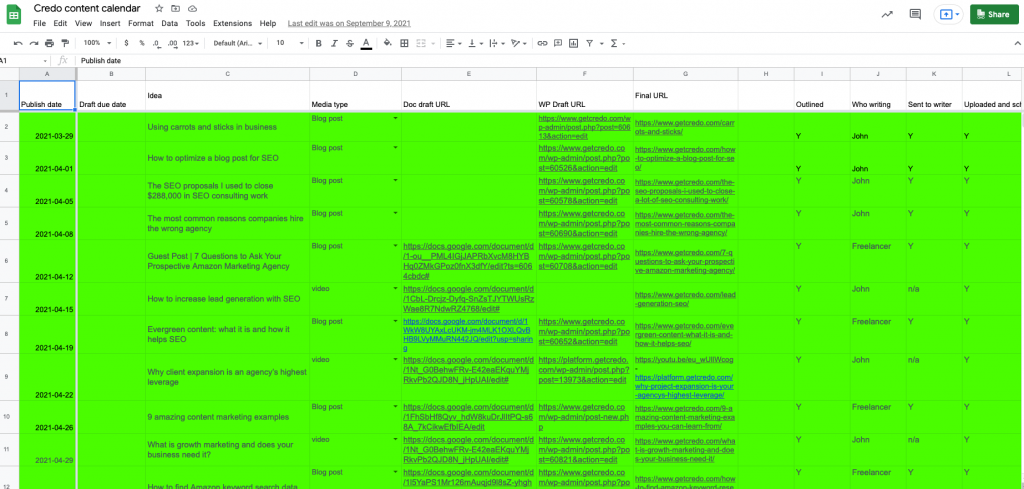 Click here to make a copy.
Content Calendar Google Calendar
The agency I worked at in New York City for a few years grew in large part because of our reputation that was driven by content marketing, specifically blogging. We wrote on our own site twice a week – Tuesday and Thursday if my memory serves me correctly – as well as weekly on Mondays on the Moz blog (at the time, SEOmoz).
In short, we produced a lot of content. So how did we manage it?
While we could have done a better job of managing specific topics we should have covered in order to drive business, we believed in hiring smart people and setting them free. In fact, I would say we as a collective did some of the best content work at that time in the SEO industry.
That said, we used a simple Google Calendar to manage the whole thing. One of our teammates, a woman named Kate, would quarterly update the shared content calendar and send an update via email (this was pre-Slack) as to who was assigned and when.
She tried her best to rotate, though sometimes people would get busy and others of us who really enjoyed writing or always had a working draft would be happy to step in.
If you have a small team and are trusting them to create content that is relevant to the business and ideal customer, then a simple shared Google Calendar can be a great way to go for your content calendar.
Using Software to Create A Content Calendar
If you have a bit more budget or want a central well designed place to manage your content calendar, then using software might be the right step for you.
There are two ways to do it:
Use software like Trello or your regular project management system to create it
Use dedicated content marketing software that contains a content calendar.
If you elect to do the first one, there are some great examples like this Trello content calendar template that you can get inspiration from.

At it's simplest, a Trello board content calendar could have the following lists:
Idea
Writing
To edit
Editing
Scheduled (with date)
Published
If you want dedicated content marketing software, then some of the best out there are Divvy, CoSchedule, Loomly, and Contently (they also have a marketplace of writers).
If you're looking for social scheduling tools to work hand-in-hand with content marketing software, then we recommend checking out Buffer, MeetEdgar, and HootSuite for those needs.