This is a guest blog post by Danielle Antosz, a content strategist and a Senior Content Marketer at Close, a CRM built for and by salespeople.
Write a blog post. Hit "Publish." Watch the customers roll in.
If only content production was that easy, huh?
The fact is, a lot of us struggle to build and scale our content machines. According to a survey by the Content Marketing Institute, figuring out how to scale content is the greatest need for 64% of content marketers. That's because a scalable content production process requires more than just pumping out blog posts. You need a strategy, goals, and a solid team behind you to get it done.
I'm here to tell you that creating successful content month after month isn't rocket science—it just takes some planning, the right people–and the right tools.
In this article, I'll show you how to do just that, with examples of how we've built our content machine at Close.
1. Outline Your Content Marketing Goals
The most important part of any content production process is defining what you want your team to accomplish.
Do you want more customers or do you want to spread the word about your brand? Do you want to increase your site's domain rating, or to build trust by telling customer success stories?
Brainstorm and cement what you want your content marketing strategy to achieve. This will give you a rough idea of what content you need to produce for each stage of your sales funnel.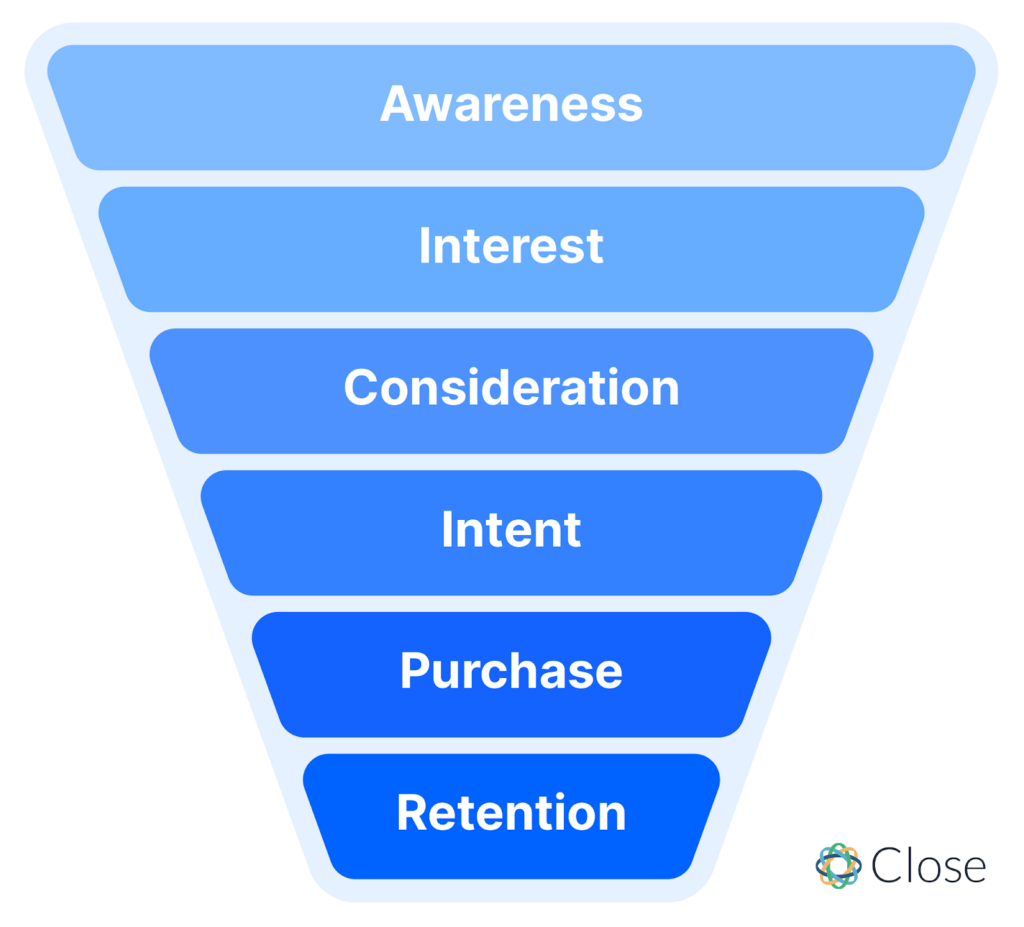 What's a sales funnel? Well, every sale is different, but most people will follow a similar customer journey from awareness to (hopefully) purchase:
Each stage of the sales funnel has different uses for content depending on the customer's needs. NOTE: I've added the stages to each part of the funnel–but it's worth noting there's some fluidity. For example, at Close we consider intent more Bottom of Funnel (BOFU) than Middle of Funnel (MOFU).
Top of the funnel (TOFU): (Awareness and Interest) When potential customers discover your brand. Content like blog posts, eBooks, whitepapers, templates, infographics, checklists, industry reports, and educational webinars are all relevant here.
Middle of the funnel (MOFU): (Consideration and Intent) People know you exist, but they're not sure if you're the right fit. Content used in this funnel stage includes expert guides, features, templates, how-to videos, product-related webinars, and podcasts to help convince them.
Bottom of the funnel (BOFU): (Purchase and Retention) The customer has all the information they need and is ready to take the next step. You need content training videos, product reviews, customer testimonials, vendor selection checklists, and case studies to seal the deal.
Once you know what content format you need at each stage of the funnel, set some solid business goals. These goals may be:
Grow site traffic: This is always a primary goal for content teams. Try attaching a specific metric to this goal so it's easier to measure. For example: We will increase site traffic to the blog by 100% over the next 12 months.
Increase blog conversions: If you want to beef up your email subscriber list or generate more leads, this is the goal to measure it by. For example, you may want to increase the number of people signing up for a free trial or your newsletter from a blog post by 50% over the next six months.
Improve SERP placements: This is where your content shows up on the search engine results page (SERP). For example, you might want to improve Google SERPs from #20 to #2 for a particular keyword/blog post.
Specific goals can also be attached to important blog posts or lead magnets like eBooks. An example will be something like:
Produce a 3000-word eBook on increasing brand awareness that will drive 5000 organic visits to our website in six months.
Because it has very specific KPIs, this goal is easy to mark as a win or a loss.
Your goals will impact everything from the amount of quality content you need to produce to the metrics and KPIs you track—choose wisely.
2. Choose Your Content Workflow Tools
Content creation is so much more than the words in a blog post.
There's all the behind-the-scenes work, like managing blog production and storing files. Plus, it needs to be optimized so Google can find it. To accomplish all of this, picking the right tools is just as crucial as setting digital marketing goals.
Here are three essential tools for any content production process.
1. Project/Task Management Tool
A project management tool is arguably the most important tool for a scalable content production process.
It keeps tasks organized and your team accountable for due dates and projects. At Close, we use Asana as our single source of truth for content production. Inside the dashboard, every task, due date, assignee, and timeline is stored. Here's an example of our pipeline for publishing blog posts: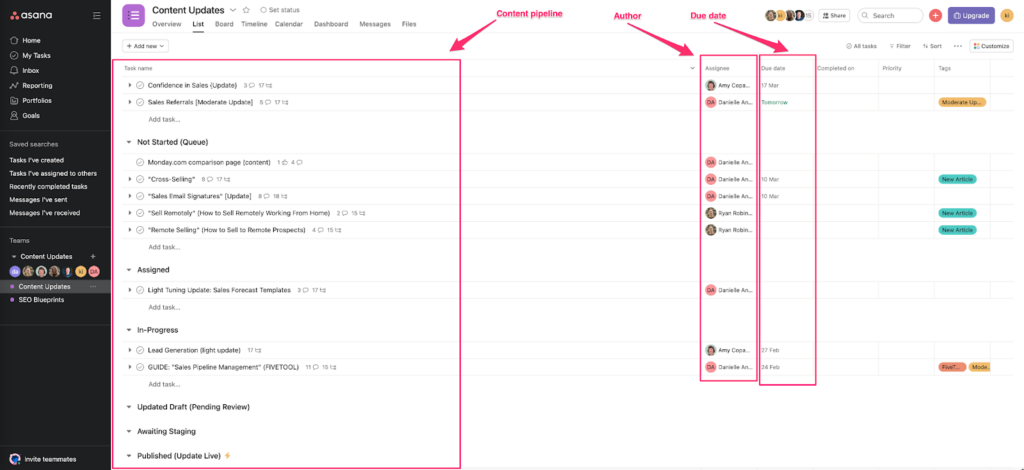 Each blog post goes through several subtasks that must be completed before it goes live, like outlines, revisions, and SEO optimization. Once published, the team ticks off tasks like building internal backlinks and content distribution that are on the list: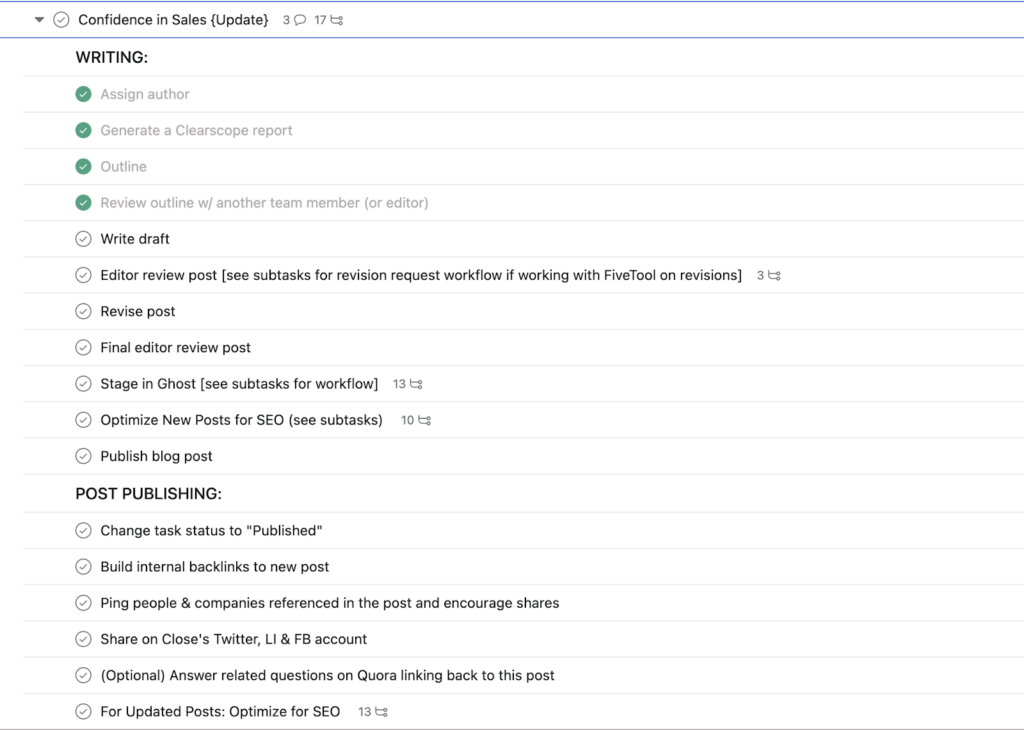 It's a lot of work. But this level of detail means that when a piece goes live, it's always up to the standards we expect. I recommend checking out Asana, ClickUp, or Trello to handle your content task management.
2. File Storage
Sharing files over email or Slack is no way to organize a scalable content process.
The best solution, especially for remote teams, is a tool that stores files in a secure cloud server, so they're accessible from anywhere. Plus, it makes the process 10x easier if everything needed for a blog post (images, SEO reports, final blog draft) is kept in one place — when it's time to upload to your CMS, it's a quick task.
The tool you select depends on your budget, but options like Google Drive, OneDrive, or Dropbox are all solid file storage options that won't break the bank.
3. Content Optimization Tools
These tools help you fine-tune every piece of content, so it has the best chance of ranking on search engine results.
Anyone in content knows platforms like Google continuously update search algorithms to ensure great content shows on page one. To ensure your content matches Google's standards, it must have the right keywords and search intent along with other basics like good grammar and factual accuracy.
Some of the tools we swear by to produce top-quality content include:
Hemingway Editor and Grammarly: For grammar corrections, flow, and to pick up difficult-to-read sentences.
Clearscope: To optimize content based on SEO best practices, research competitor content, and optimize for search.
Ahrefs: The best tool for competitor research and keyword suggestions. We also use it for a ton of other content-related tasks like finding backlink opportunities and researching content gaps.
Remember, these tools are not always 100% reliable. Use their recommendations as suggestions, and lean on your team's expertise to create valuable content for your audience. Set a content standard and make sure your team is producing quality work that meets it before it goes live.
3. Outline Who Owns Each Step of the Content Creation Process
A scalable content production process isn't a solo game.
You will need a team to help you get it off the ground, from finding keywords and ideation to SEO research and revisions.
Over at Close, we have a lot of people who are responsible for taking a piece of content from keyword discovery to publication.
First, we handle 50% of our SEO tasks: some keyword research, content ideas, and outlining are done in-house, while the rest is outsourced to content experts for additional support.
The rest of our team members include:
Head of content: To assign projects, track metrics, develop new projects, and monitor the quality of all the content we produce.
Managing editor: To manage writers and guest posts, generate content ideas, edit content, and manage relationships with partner publications.
Freelance + in-house writers: We use a mix of in-house content creators and experienced freelancers to write and optimize blog posts. Each writer is given a detailed brief, deadline, and access to optimization tools like Clearscope. As a result, every piece submitted meets the quality standards we've created.
Editors: Every blog post is seen by multiple editors to ensure it's optimized and meets our style guide. Proofreading is also the best way to keep content free of grammar mistakes, run-on sentences, and typos!
Graphic designers: We create custom graphics that include our logo and screenshots for our blog posts to add a bit of juice to our brand awareness. If we promote the blog post across social media or if it's part of a product launch, the designer creates images and visuals that match to stay cohesive.
We also track every piece we publish by measuring traffic, SERP placement, and whether it has snagged SERP features like snippets.
The big question for most content teams is: in-house or freelance?
The only answer: it depends.
I know you might want a cut-and-dry answer, but the right choice will come down to your content needs, in-house resources, and budget. In B2B, the most outsourced role (by far) is content creation. 84% of businesses rely on freelance writers and agencies to create blog posts without scrimping on quality—and Close is one of them! Content that is more product-focused tends to stay in-house, while broader blog content is generally outsourced.
4. Create a Content Publishing Calendar
Your marketing strategy will dictate what your content planning and publishing calendar looks like.
Do you want to publish content on certain days? Or pump out five blogs a week? Or are you doing a massive push around a product launch that involves blog posts, email, and social media posts?
My recommendation?
Work with product marketing to align publishing dates with the launch of new features. For example, we're launching a Close App soon, and the content to promote it is already done. When it's time for the app to go live, this content will be published.
So, how do we plan all this out?
We've found the easiest way to do all this is to double up our project management tool as our content publishing calendar. We love this strategy because Asana has two different views: calendar and task list. Our editorial calendar shows what's due to be published on each day of the week: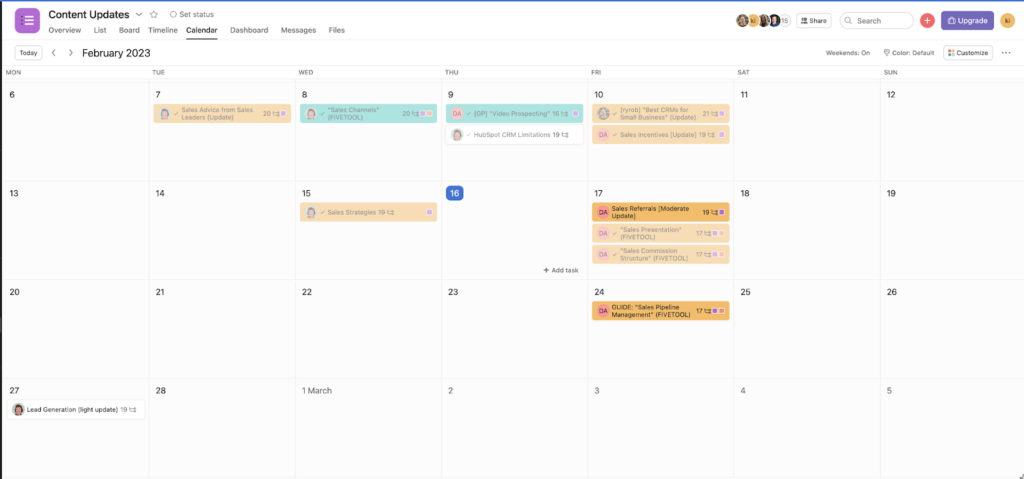 On the other hand, the task list is a more granular look at the production pipeline. Here, our content team can see how close a piece is to being ready to go live, and if a deadline is looming, they can push to complete tasks like final edits and revisions: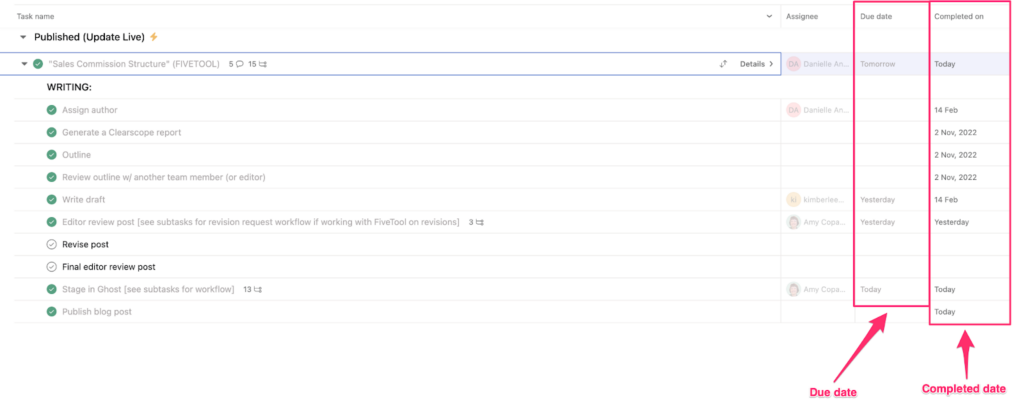 I also like the board view of Asana, which makes it easy to see content in different stages of development. If you have used Trello in the past, this is pretty similar: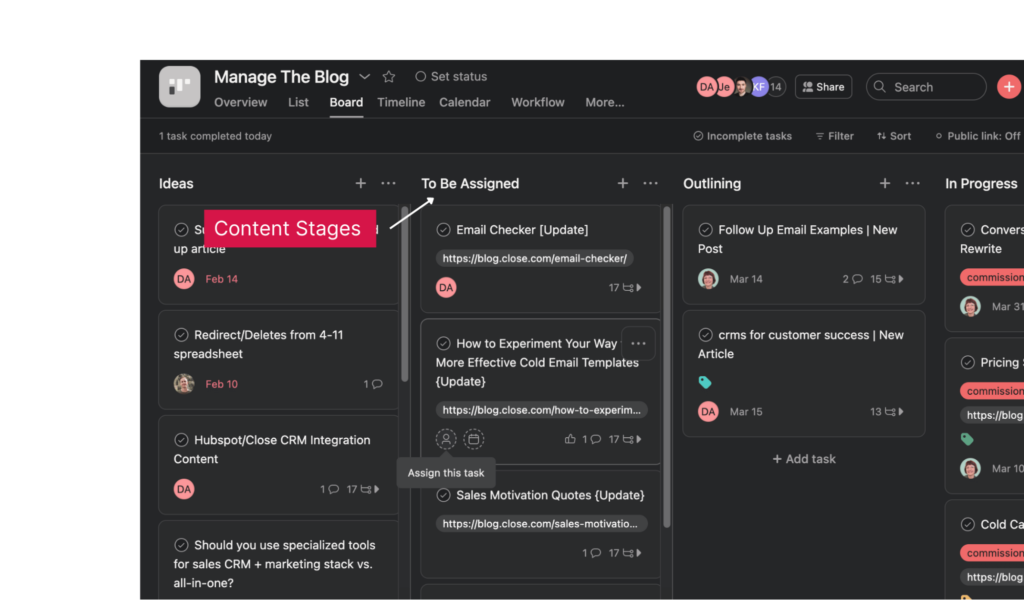 We also track posts once they go live in a Google Sheet. This is a living document where blog post URLs, authors, keyword volume, and SERP positions are tracked and updated each month.
Instead of scrambling every week looking for keywords and blog post ideas, our team has mapped out a content calendar at least a few weeks in advance. This keeps our content pipeline full, and it makes it easier for our freelancers to plan their workloads!
5. Remove Bottlenecks in the Content Creation Process
Bottlenecks are the biggest roadblocks in any content management process.
Take my word for it. There will be a time when the task list gets too much and it'll slow down content output. The only way to avoid bottlenecks is to go through your content production process with a fine-tooth comb and find anything that slows it down.
For example, if creating outlines is your job but you aren't caught up with editing and onboarding new freelancers, it will derail your content calendar. You have a couple of options here. You can ask writers or other members of your content team to take on extra tasks (like outline creation or content distribution) to spread the workload.
Or, if you don't have the time or cash flow to handle the extra tasks in-house, outsource it.
For instance, a service like Editor Ninja can edit content in just a few days. Dedicated editors (who learn the ins and outs of your brand messaging) can quickly edit your content and remove the roadblock in your process. Using AI tools might also be an option to speed up outlining or streamline research.
Here are a few other ways to outsource almost any bottleneck in your process:
Tools like Frase or Content Harmony create basic outlines and recommendations to get your writers started. Or, if you have the budget, specialized agencies can help with SEO research, blog outlines, and content frameworks.
For image creation, consider paying for a service like Design Pickle or Flocksy.
For content distribution, apps like Agorapulse or Buffer can schedule posts across social media channels weeks (or months) in advance.
Find and eliminate your bottlenecks to avoid a hard stop..
6. Measure How Effective Content is and Make Plans for Improvement
Finally, you must track your content process to see what's working—and what's not.
The metrics you measure will depend on the goals you set in step one. At Close, we've been measuring overall organic traffic, because improving that has been our #1 goal for the last twelve months. But if you are just getting your blog off the ground, or focusing on BOFU content, tracking other metrics like conversion and click rates will make more sense.
If you aren't sure which metrics to track, stick with the basics:
Site traffic: The number of unique visitors and pageviews on your blog.
Conversions: How many visitors click a link, download a lead magnet, or sign up for your newsletter?
SERP rankings: Are the blogs ranking on Google (or improving their placement) after three months of being live?
Track everything and adjust your goals as needed.
Ready to Supercharge Your Content Production Process?
Content production is hard. Scaling it into a successful process is harder.
You need to plan out your strategy, hire the right people, and document everything to see what parts of your workflow need tweaking. The best content teams put a lot of effort into getting the infrastructure of their content production process right, whether that's investing in a solid project management tool, or outsourcing tasks like editing to professionals who can get it done quickly.
We've hit a ton of content goals over at Close by following these six steps and managed to increase our site traffic by over 40% in just four months.
So, are you ready to follow our lead and supercharge your content production?
When editing becomes a bottleneck, make sure you check out EditorNinja and schedule a free Editorial Assessment to see if our services are right for you.