When you're an author or writer putting your work out into the world, you invariably want to put your best foot forward and avoid glaring and embarrassing typos and grammatical errors.
Thus, you might be looking for and trying to find a freelance editor who can review your documents and make sure you're presenting your best work to the world. A great editor gives you the confidence to publish and promote your work.
How To Hire A Freelance Editor
To hire a freelance editor, you first need to define the scope of your needs. From there, based on the volume of content needing to be edited and the type of work, you can decide how many editors you need, how often you'll need them, what you can afford to pay, and how you'll manage the workflow of content production.
After you define the scope, you need to find editors. There are many places online to do this, or you can just hire EditorNinja and we'll use our network of editors to turn your documents around quickly and on schedule.
As you're hiring and vetting editors, you need to ask yourself the following nine questions. For some of these, you should ask each editor the questions to see if they are qualified.
What is their background? Are they actually trained in editing?
How much do they cost and how do they charge?
What type of editing are they most familiar with, and do they have experience with your type of writing and tone of voice?
Do they edit to a style guide, and can they edit to your style guide?
What is their availability for editing and how quickly do they turn documents around for you?
How often do they invoice you for the work they have done?
How do they expect or need to be paid? Can you pay with a credit card?
Are you familiar with laws and regulations around hiring and paying contractors, including tax implications?
If you need to hire more editors, is it easy to do so?
After you find some freelance editors you're interested in, you need to test them. Have some documents that are ready to be edited, assign them to different editors, and then check the work on the back end. At EditorNinja, we take care of all of this workflow for you including the review before it comes back to you ready to publish.
For most companies looking to hire editors, the challenges come in the following areas:
Performance and time management.
Actually FINDING editors.
Scaling up or down the team as needed based on editing volume.
Paying editors and managing cash flow, and especially avoiding unexpected charges for services rendered.
Hiring editors is hard, and scaling up a content editing team can be even harder. EditorNinja makes this easy, but you can totally do it on your own if you prefer.
So how does one find a freelance editor that is trustworthy and affordable? Finding freelance editing and editor services doesn't have to be hard.
Here are a few ways to do it.
EditorNinja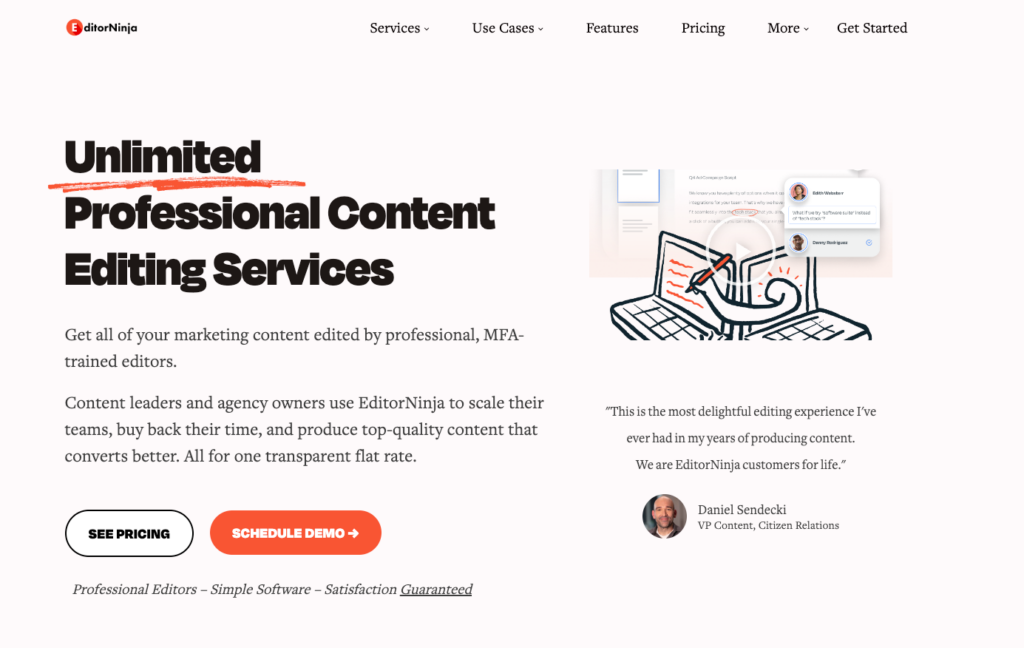 Finding a freelance editor is the problem that EditorNinja exists to solve for you. In fact, we solve it by eliminating the problem completely.
To get freelance editing services, like copy editing and proofreading, done by editors on EditorNinja, simply get started with a demo or submit your document.
Our professional editors edit your content according to your guidance. Most documents are returned within 24-48 hours (based on your selected timeline), and all subscribers can add unlimited content to their editing queue. Because our pricing is flat-rate, you'll never have to worry about an editing bill bigger than you expected or budgeted for.
Your documents come back to your inbox and within the EditorNinja app, ready to go, with links to shared Google (or Word!) documents that have all the edits made as well as a clean version that you can just review and publish.
EditorNinja – Finding a freelance editor, rethought!
Upwork
Another good place to find freelance editors, if you want to put in the effort to do so, is Upwork.
On Upwork you can either post your need and have freelancers contact you and bid on it, or you can browse freelancers yourself and invite them to apply to your job. Make sure that you are prepared to hire a few editors, send and pay them for test projects, and then only keep the best.
Upwork has become a trusted place to find freelancers for many different gigs. Their platform makes it easy to interview, hire, and pay freelancers through a trusted system if you desire to do it that way.
Rates and quality vary of course, but Upwork can be a good solution.
The EFA
The EFA, short for the Editorial Freelancers Association, is a membership and association for freelancers working in the editorial realm. They provide resources for their members and generally support the freelancers in the editorial space.
They also have a job board where you can post a job, or browse the member directory, to hunt for a freelance editor.
The EFA does not set rates and leaves the setting of rates up to each individual freelancer. They are not a marketplace or managed service and do not provide support during the editing process, though do have resources on how to hire well. The Editorial Freelance Association is a good place to source editors though.
LinkedIn
LinkedIn is the world's largest social network for professionals, which means there are a lot of editors on there looking for work.
Because editing can also be freelance on the side of full time employment, LinkedIn can be a great way to find editors with full time gigs who are looking for more work. Of course, you'll also find that a lot of them are not taking on freelance work, are simply too busy to do a good job, or don't have experience freelancing and thus your experience may not be great.
The best way to find editors on LinkedIn is to navigate to their Services section, select Editors, and then submit your need to get quotes and proposals from editors.
Similar to the EFA, LinkedIn does not provide guarantees around delivery and does not set rates for their editors. But you can still find top-shelf editors on LinkedIn.
How Much Freelance Editors Make
Before we finish, you might be asking how much freelance editors make.
According to the EFA, you might expect to pay:
$36-$50/hr for freelance copy editing
$46-70/hr for freelance developmental editing
$31-$45/hr for proofreading
Here at EditorNinja, we're able to provide these services cheaper because our editors aren't sourcing their own work and don't have all the overhead of running their own business. So we can pass those savings on to you!
Searching For An Editor For Your Content?
Finding professionally trained editors in a freelance capacity is difficult. That's why we built EditorNinja, where you get professional editing without the headaches of finding, recruiting, managing, and paying editors. All EditorNinja editors are MFA trained.
If you're looking for someone to give your content the editing polish it needs (or that your clients ask for), get in touch today for a free no-obligation chat.