EditorNinja is the internet's favorite on-demand editing service. We edit the content you're already producing. But to create it in the first place, you either need to be a good creator or you need to hire great writers who can produce on-brand content that converts. So we wrote this post to help you find good writers because we know that once you're producing content you're going to want us to come alongside you to help you make that content ready to publish!
"Where do you find good writers?"
This is the most common question I've come to expect when giving content marketing advice to entrepreneurs and marketing leaders.
This question makes sense because for some reason it's tough to find affordable good writers who you can count on. Too many are unorganized, write content that is at best a bad first draft, and don't put themselves in the reader's seat so they can write something that meets their needs.
So, where do you go to find good writers who will write you copy that ranks, converts, and ultimately make you (a lot) more money than you paid for it?
There are six ways to find good writers:
Source freelancers through your network
Source freelancers through a platform
Use a content service
Use a content platform
Hire a journalist to source subject matter experts
Hire a content marketing agency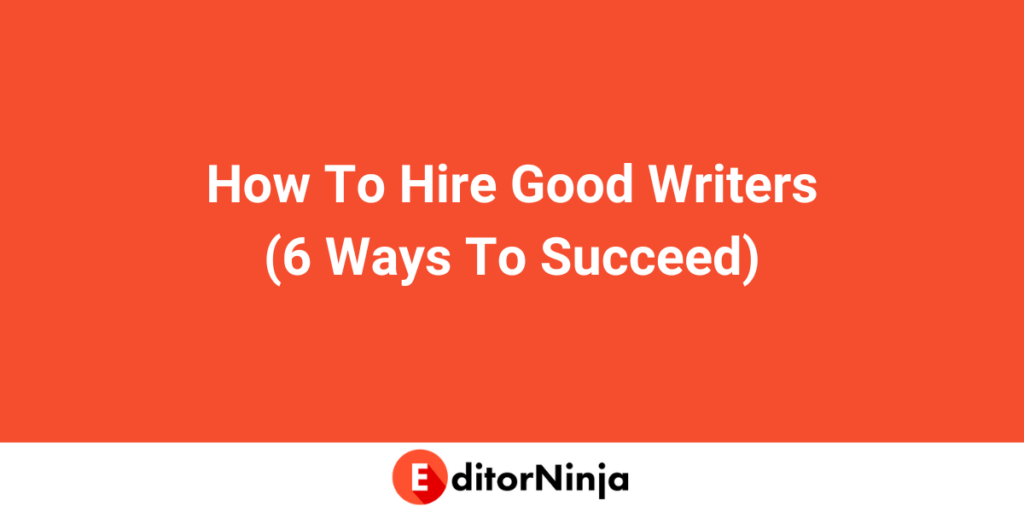 Source Freelancers Through Your Network
One of the best, though not the fastest, ways to find great freelance writers is to ask your friends who they have worked with and recommend. Chances are, they have already worked with some great freelancers who are available for additional work.
Another great way to find freelancers who may be open to work, and who know your subject and market, is to look at who has already written for and has bylines from your competitors or other publications in your industry. Most of these freelancers should then have a personal website where you can learn more about them and contact them about their availability.
While this is a good way to find freelancers, the downside is that you'll need to conduct interviews, explain your need or project, and get proposals and quotes to review from each freelancer. This will take a lot of time but can be worth it if you find the right freelancer(s) to work with moving forward.
Source Freelancers Through A Marketplace
Another way to find freelancers is to source them through a marketplace like Upwork. Some platforms like Contently and ClearVoice also have freelancer directories where you are able to sort profiles by attributes like location or cost. You will also find that many freelancers use these profiles to showcase their work to prospective clients.
Sometimes you will simply be able to find the freelancer on the marketplace's site and contact them to run the hiring process above.
Other "true" marketplaces like Upwork will enable you to post a job (more commonly called a "gig") and allow freelancers to reply to you. They usually provide a messaging system as well. Once you find a freelancer who you want to try out or work with, you'll receive a quote through the marketplace and can pay them through the marketplace. It is usually against their terms of service to pay the freelancer outside of their platform.
Use A Content Service
When you care less about who is writing and care more about producing a volume of content at budget rates, a content service like Verblio, FatJoe, or ContentWriters might be the right fit. Here are the content services we recommend.
Much like the marketplaces listed above, you can order and receive content through their proprietary technology. With many of these services, you can select the level of quality you need (often on a 1-5 star scale) which then determines your price. Most content services have a "Love it or you don't pay" guarantee as well, so you only pay for content that is up to your quality standards.
The upside to content services is that you can often produce a lot of pretty good copy for a reasonable price. Downsides include variable quality, you don't get to choose your freelancer, and the content often needs fairly substantial editing before it is ready to be published.
Note: At EditorNinja we have a lot of experience editing content produced through these content services. Click here to learn how it works.
Use A Content Marketing Platform
Finding, hiring, paying, and working with freelancers either on your own or through a marketplace can be challenging and time consuming. This is why content platform solutions like ClearVoice and Contently exist. They're more expensive than working with freelancers yourself or via a marketplace, but that's because they add more value.
To use a content platform, you usually pay a "platform fee" to access their proprietary technology and network of writers who are sourced, vetted, and managed by the platform. They often have subject matter experts that they can connect you with to produce expert content. Fees above and beyond the platform fee are most commonly on a per-article basis.
A major upside to using a content marketing platform is that they usually have subject matter experts you can procure content from. A downside is that content marketing platforms tend to be very expensive for what you get.
Hire A Journalist To Source Subject Matter Experts
A fifth model for producing content that most companies don't do is hiring a journalist, or a great interviewer, to produce content that is informed by subject matter experts. I get asked by a lot of companies about "where to find subject matter expert writers," but I think that's the wrong question.
Most subject matter experts are not great writers.
What they need instead is a journalist who can pull those insights out of the experts and turn them into something people want to read and share.
Think about this person as being akin to a content marketing manager, just with more journalistic skills than content marketing skills. Their primary responsibility is to be curious about the space, find and interview sources about the topics, and report on what they find.
This type of content isn't usually your general "SEO content" meant to target and rank for specific keywords, but it's not meant to be. It's meant to be unique high-quality content that informs the market and gets people talking. Isn't that better than "SEO content" anyways?
So where do you find a journalist? Sign up to platforms like HARO, Terkel, and Qwoted. Go to the sites you read and look at who the journalists are. Start building relationships with them. See if they're taking on clients or know other journalists who are.
Then point them to those same platforms listed above to source the experts!
Hire A Content Marketing Agency
The final way to find good writers is to hire a content marketing agency that works with great writers.
How do you do this? You ask them how they recruit, train, and manage writers. The best agencies will have a deep bench of writers across industries, and they'll have a recruiting machine that allows them to hire writers as needed. If they don't have the right writers for you, they can go recruit them.
Here is a dirty little secret of most SEO and content agencies – most use the content services I listed above. You could get the same content for a fraction of the cost, as agencies always mark it up to make their margin.
Working with a content marketing agency has a lot of benefits, namely that they can also take care of strategy, hire writers and editors, manage the content workflow, and return it back to you with reporting. The downside is that you can usually get the content itself cheaper, so if you have the team in place to manage content strategy and production, an agency may not make sense.
Need Editing For Your Content?
Now that you've hired writers or a service/agency and are producing content, is it up to your standards when it comes back to you? If not and you are spending a lot of time and effort editing content, you should consider using EditorNinja. We're here to take editing off your plate so you can focus on higher-leverage activities.
Click here to view pricing and schedule a free editorial assessment with our team.