Over the last year or so, I've become very interested in how companies grow. I've built a few small companies (mid-six figures in annual revenue, with six to ten people including full-time and freelancers), but I've also worked inside of and with much larger companies like Zillow, IHG, and many more where I've built, managed, and worked alongside content marketing teams. These companies number in the thousands to tens of thousands of employees, and their content teams can sometimes be quite large.
When I built the marketing team at Zillow's brand HotPads back in 2013–2015, I kind of made it up as I went along. I had an inside view into what Zillow's marketing team looked like, but they were a large brand and thus had a mature marketing team. I also reported to Zillow's CMO at the time, Amy, and she advised me on what roles to hire and when. While that mentorship was incredibly helpful, and her guidance overall has been incredibly helpful in my career, I still made some mistakes and wished that I had more of a blueprint to follow.
After all, looking at what a large company's team looks like is interesting, but it does not help you learn how they got there.
As I've spoken with marketers, both in-house marketing leaders as well as agency owners, over the last year, I've become quite interested in what their teams look like. On the one hand, it's been self-serving — I've been trying to learn who is responsible for their editing. On the other hand, it's been fascinating to learn how roles and responsibilities are divided up within teams.
As I've done the research for this article, I've found that even very experienced content marketing leaders often fail to account for all of the roles that a mature content marketing program needs. Those roles are:
strategy,
creation,
editing,
promotion, and
operations.
I've accounted for all but promotion below.
Even when a team accounts for all of the roles, what I have found is that some of those roles are being done by people who are, to put it succinctly, way overqualified and paid too much to be doing some of the roles they're doing. Mostly, this happens in editing where I hear, and you will see below, that heads of content (or even higher-ups) are often responsible for editing.
This is mostly understandable — people hang onto the roles they've been doing and enjoy doing, regardless of how their position changes. This is why I often see directors or even VP-level marketers responsible for the $25–$35/hr task that is editing. When a VP of Marketing making a $250,000 salary is working on $35/hr tasks, something needs to change.
Methodology
For this article, I used Help A B2B Writer to source responses from people eager to be quoted. It's a free tool owned by Superpath where you can request quotes from sources for articles you're writing.
The prompt was:
I'm looking to hear from in-house content marketers and marketing leaders, who are willing to explain their content team setup.

Example:

"We have a VP of Marketing. Our Director of Content reports to them. The Director of content manages 2 content managers, who each work with freelancers to produce content. We also have a dotted line to a designer and a developer, though they sit outside of the content organization."

Please include the company you work for, the type of company it is, and the amount of content you produce per month (words or pieces), as well as any sort of company metrics you can share (ARR, monthly traffic, etc) that will help readers understand the company size.
For each respondent below, you will find the following:
Their original reply
A graphic showing their team structure
Where provided, the types and volume of content they produce
A table outlining who is responsible for each role of a content team
Where provided, the type of company and their provided metric to show company size
This article covers:
Digital and recruitment agencies
SaaS companies
A large B2B distributor
I plan to add more companies over time.
Let's Talk Talent (UK Talent Management Consultancy)
Company type: Recruiting agency
First up is Let's Talk Talent, a B2B UK "talent management consultancy," according to their Marketing Director Charlie Southwell.
Charlie said:
Let's Talk Talent http://letstalktalent.co.uk/ is a Talent Management Consultancy. A B2B consultancy that helps our clients get, keep and grow brilliant people. We have ten staff, and thirty associates. Our internal marketing team is only two of us.

We have a Marketing Director and a Marketing executive who reports to them. And that's our in-house marketing team. We also have a copywriter, a graphic designer, and a video editor who we hire as freelancers to pull in.

In an average month we create:

4 new blog posts
4 new YouTube videos
2 new podcasts
2 webinars
2 newsletters
1 course on WhatsApp
1 whitepaper, checklist, or template

We currently get 20,000 page views (up from average 6k last year).
Here is their organic traffic chart from Semrush: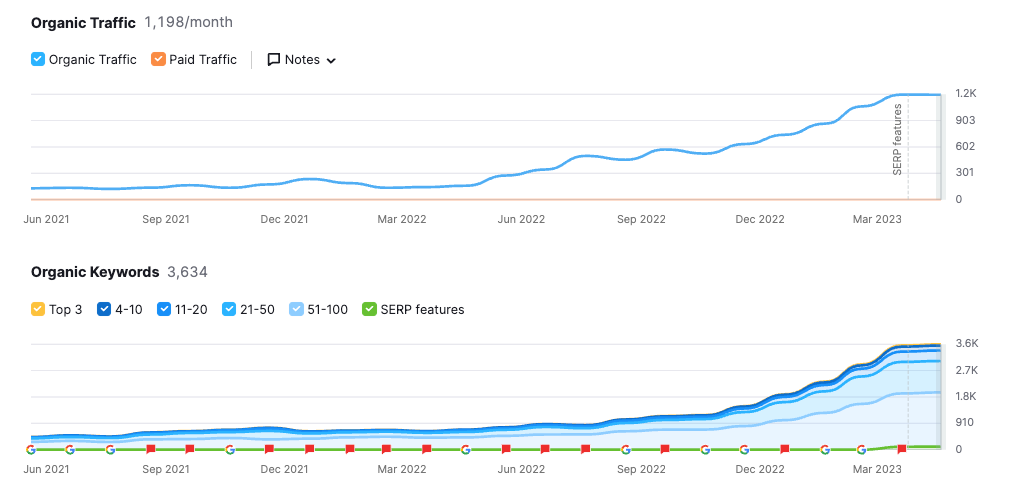 Their team structure is straightforward: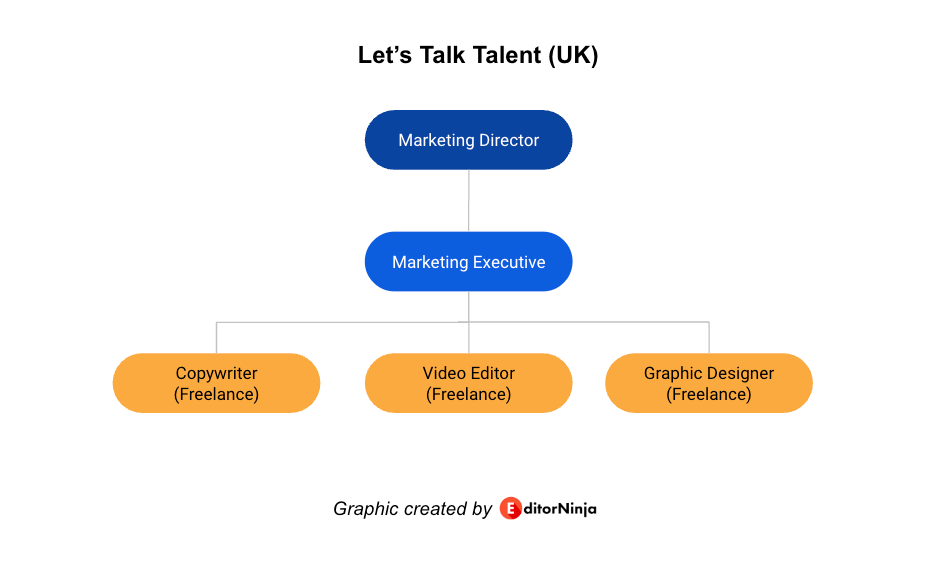 When asked, Charlie also told me that he and the marketing executive work part-time, four and three days a week respectively. They both manage freelancers, though more of that falls to him right now. As for editing, he said, "content editing is mostly part of the marketing exec role. But in a small team we do tend to cross over a bit."
| | |
| --- | --- |
| Role | Who |
| Strategy | Marketing Director |
| Creator(s) | Freelance |
| Editor(s) | Marketing Executive |
| Ops/management | Marketing Director |
Novaspect Inc
Company type: Distributor
Next up is a response from Nataé Shreeves, the content creator at Novaspect. Novaspect was founded in 1936 and is employee-owned, with over three hundred employees.
She said:
I work as a Content Creator in the marketing department for a company called Novaspect Inc, which is a distributor/services provider for industrial automation.

My position is new with the company and the goal is to create content to increase brand awareness and generate leads for systems and software solutions. The three-person marketing team consists of one Marketing Specialist who handles web, graphics design and trade shows, one Demand Generation Manager who handles marketing tech stack and automation, and myself. I started with the company in March 2023, so right now I am creating two to three case studies, emails, LinkedIn posts, and internal tools per month. I will also be part of an upcoming project to create a new website for a delineated brand.

The marketing team reports to the Director of Sales and Marketing which supports five business units.
Here is their organic traffic chart from Semrush: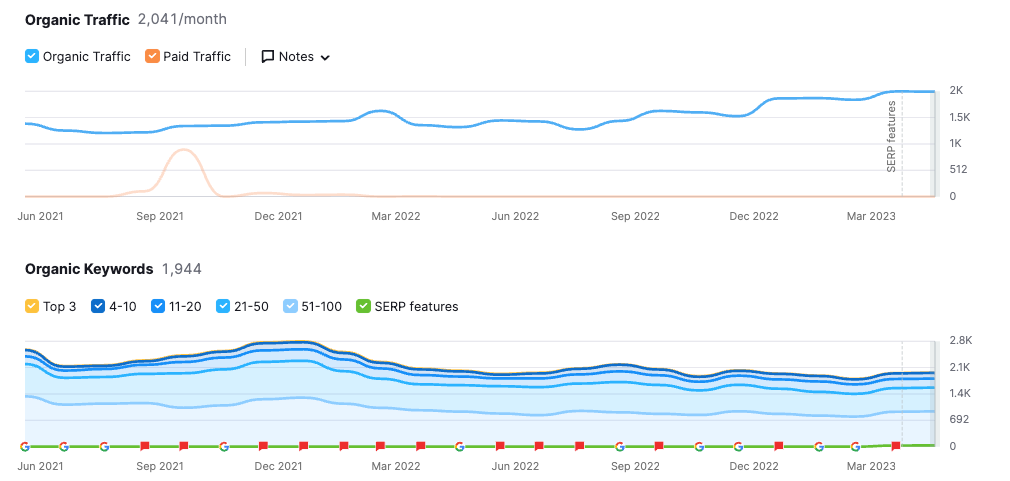 Here is their team structure, according to Nataé: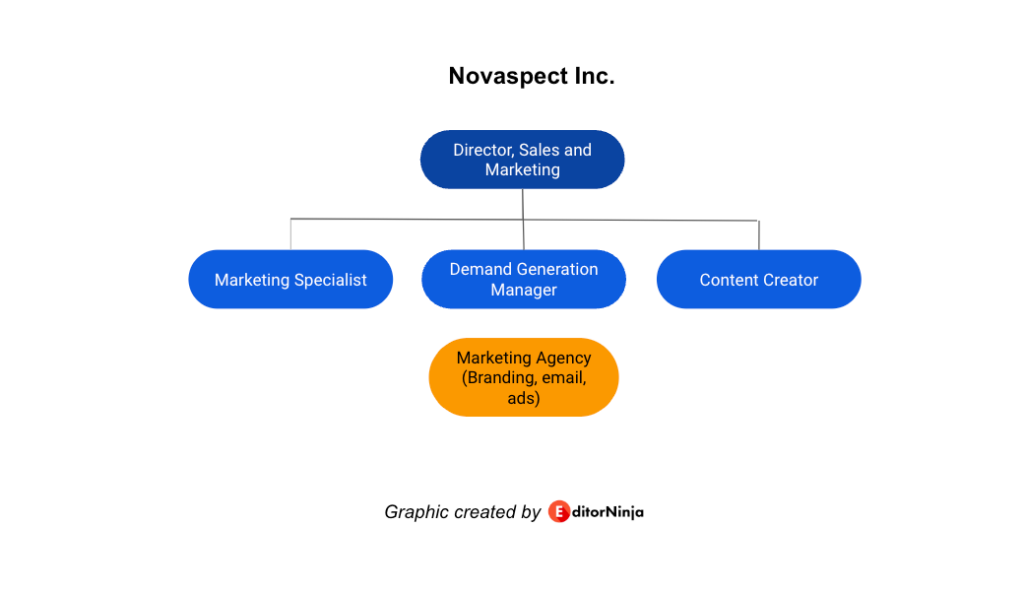 When asked, Nataé told EditorNinja that they also work with an agency and they edit in-house with manager sign-off before content is published.
| | |
| --- | --- |
| Role | Who |
| Strategy | Director, Sales and Marketing |
| Creator(s) | Natae |
| Editor(s) | In-house |
| Ops/management | Director, Sales and Marketing |
Passport Photo Online
Company type: Software as a Service
Next up is Passport Photo Online, an online biometric photography software company with just under one hundred employees. Their head of marketing, Leszek Dudkiewicz, replied to our query. He said:
The amount of content produced per month depends on our quarterly goals, and the two main metrics we focus on are organic traffic and conversions.

The content team setup is the following: the content leader reports to the head of the SEO team, plus there are five writers and two or three people in the company that also collaborate with other teams, responsible for publishing and technical aspects. Finally, there is a graphic designer who dedicates to the visual elements of our content.
When asked, Leszek clarified their hierarchy: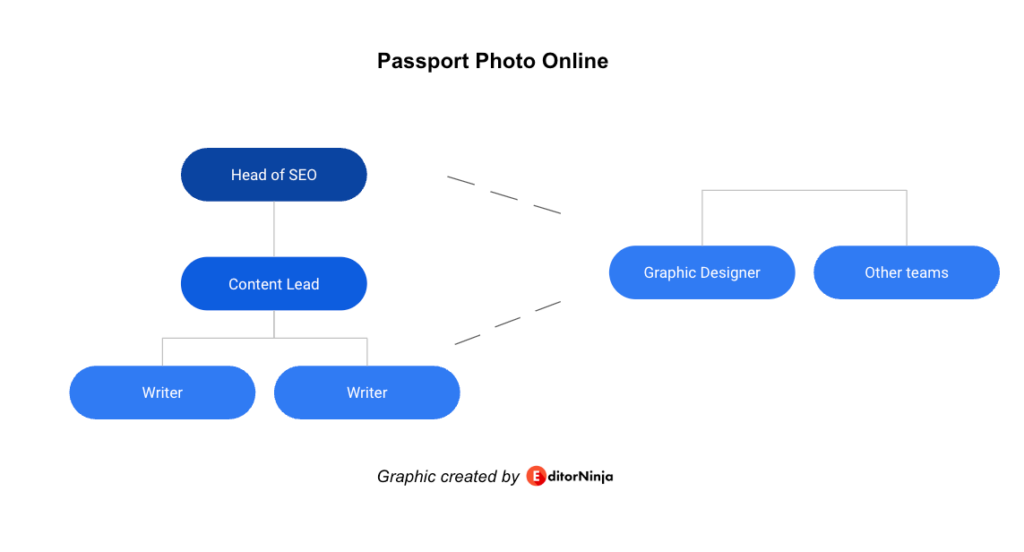 Here is their role breakdown. Notice that they make the classic "writers edit each other's work" choice:
| | |
| --- | --- |
| Role | Who |
| Strategy | Head of SEO and Content Lead |
| Creator(s) | Writers |
| Editor(s) | Writers (edit each other) |
| Ops/management | Content Lead |
SEOTesting
Company type: Software as a Service
Next up is SEOTesting.com, where their Marketing Manager Ryan Jones replied to our query. (Full disclosure: I personally know the team and Nick gave EditorNinja a free SEOTesting account in the past.) They are a "mid-five figure MRR" SaaS company.
Ryan said:
Within the market, we're still a small-scale start-up and almost completely bootstrapped, so we're a small team.

Within the team sits Nick, the founder, who oversees everything that goes on the website at present. This is set to change slowly as the team grows and the company develops. We then have myself, the Marketing Manager, who has a hand in both curating and writing content for the website itself. We then have Tiago, a contractor who both writes and produces video content for SEOTesting. These are all inside the company, and then we also take on content from outside sources (guest posters, industry experts, etc.) when it fits our marketing plan.
Here is their organic traffic chart from Semrush:
Their org is straightforward as well: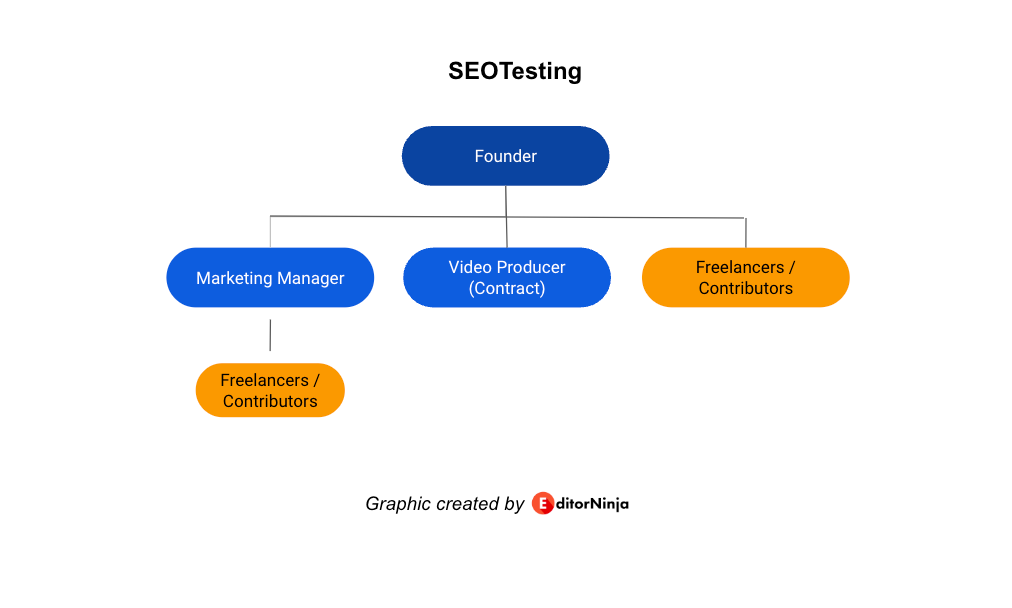 Their roles are split like this:
| | |
| --- | --- |
| Role | Who |
| Strategy | Founder |
| Creator(s) | Marketing Manager/Freelancers |
| Editor(s) | Marketing Manager |
| Ops/management | Founder/Marketing Manager |
Brightview Health
Company type: Franchise
Next up is BrightView Health, a "comprehensive outpatient addiction treatment organization with around 25,000 patients under care across eight states." Suffice to say, they're large.
Their VP of Marketing and Communications, Colin Jeffries, told EditorNinja:
At BrightView Health, our content team lives within the marketing function. The Director of Content Marketing reports to the VP of Marketing and Communications. In addition to the Director, our content team consists of a copywriter and social media coordinator.

We have a Producer, Graphic Designer, and Marketing Manager who are integral to our content strategy and creation but do not report directly through content, as their core functions are more focused on new patient/customer generation, sales enablement, internal communications, and so on.

The content team produces three to four blog posts per week, thirty to forty social media posts per week (five to ten per platform across Facebook, LinkedIn, Twitter, and Instagram), and one to two long-form videos per week. We also conduct virtual forums each month for our B2B audience.
Here is their organic traffic chart over time from Semrush:
Here is their content team layout: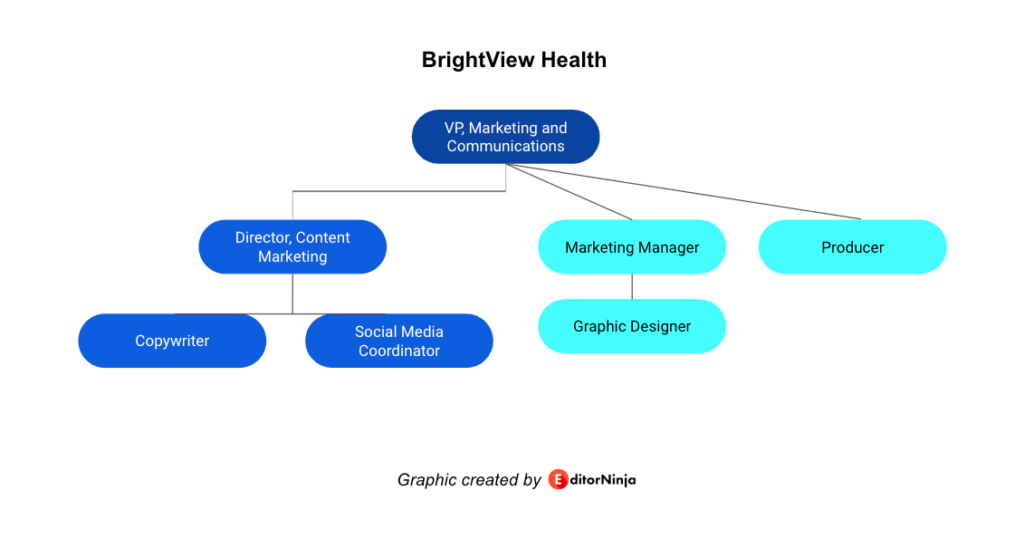 Their roles are split like this:
| | |
| --- | --- |
| Role | Who |
| Strategy | VP Content/Comms |
| Creator(s) | Director of Content and Copywriter |
| Editor(s) | Director of Content |
| Ops/management | VP Content/Comms |
Nuoptima
Company type: Agency
Nuoptima is a Digital Marketing Agency with a focus on SEO. They do about $1M in annual revenue and receive 13,000 organic visitors per month to their website. They produce approximately 500,000 words of content per month for their clients, and around 100,000 per month for their own website.
Their Head of Growth, Aman, told us:
We have our Head of SEO. To him reports our Lead Editor. She manages up to three editors who edit & review content from twenty to twenty-five in-house content writers. Our Head of SEO reports to our Head of Growth & CEO.
Here is Nuoptima's organic traffic chart over time from Semrush: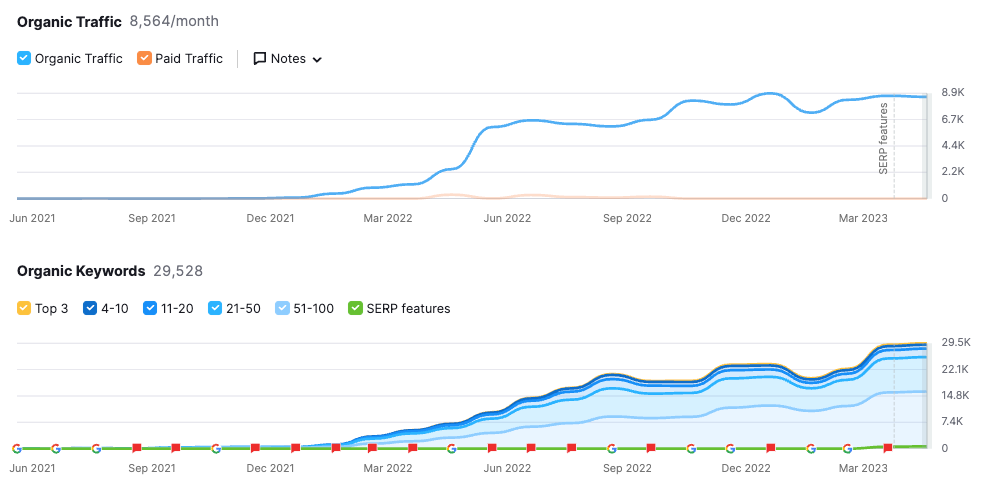 Here is their content team layout: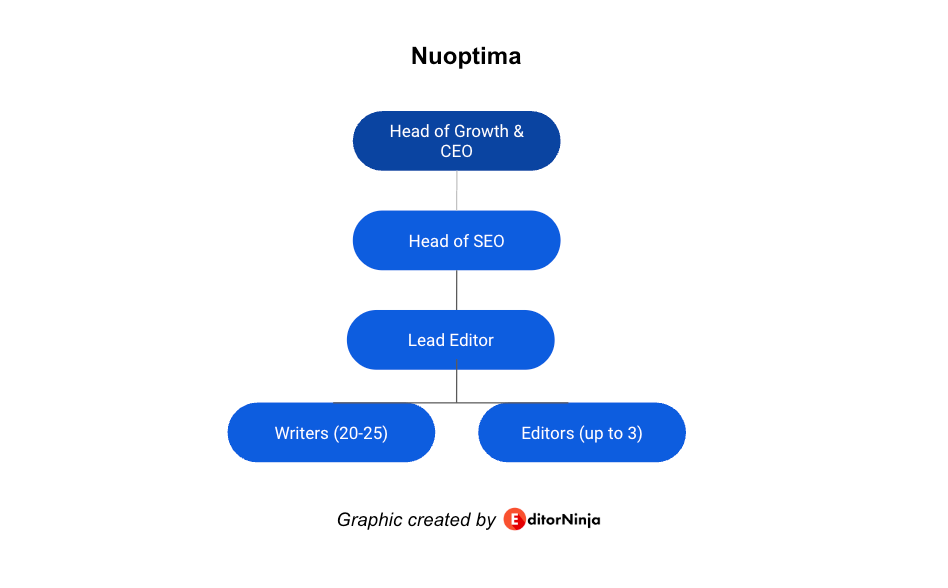 Their roles are split like this:
| | |
| --- | --- |
| Role | Who |
| Strategy | Heads of Growth & SEO |
| Creator(s) | Writers |
| Editor(s) | Editors |
| Ops/management | Lead Editor |
Mailmodo
Company type: Software as a Service
Zeeshan Akhtar, Head of Marketing from Mailmodo, a "complete email marketing platform that enables marketers to send interactive emails," replied to our query.
Zeeshan said:
We have a Head of Marketing. The Sr. Content Marketing Managers report to him. Each Sr. Content Manager has two Jr. Content Managers as reportees. The Content team has access to a Development team and a Design team, both of which are shared across the marketing team.

We produce around 30+ pieces of articles and 20+ pieces of landing pages and other collateral.

We are a seed-funded startup backed by YC and Sequoia and have been growing above one million+ ARR.
Here is Mailmodo's organic traffic chart from Semrush: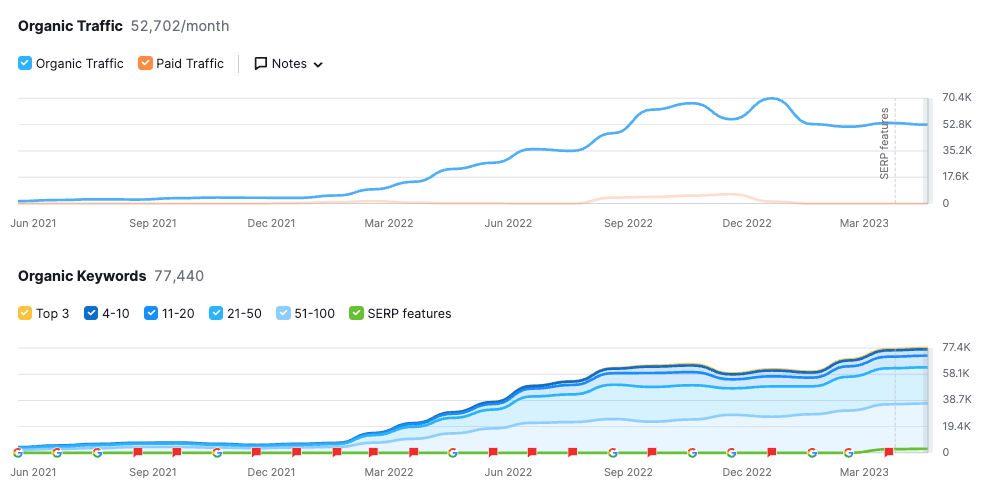 This is their team hierarchy: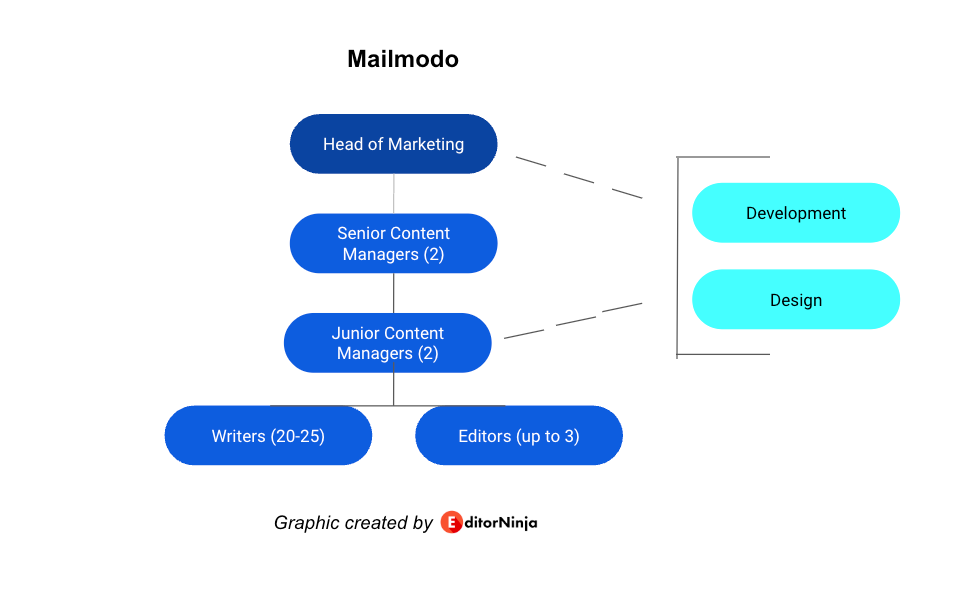 Here's their roles and responsibilities table:
| | |
| --- | --- |
| Role | Who |
| Strategy | Head of Marketing |
| Creator(s) | Content Managers & Jr Content Managers |
| Editor(s) | Senior Content Manager |
| Ops/management | Head of Marketing |
WrittenlyHub
Company type: Agency
WrittenlyHub is a Bangalore, India–based content marketing agency producing 1.2–1.5M words of content per month for clients, with over sixty employees (they called them "Associates" in the email to EditorNinja).
Their Content Specialist Shivani Maheshwari told us:
We are a boutique content writing and marketing agency and have served more than 400 clients in a short span of 2.5 years since our inception. On a monthly basis, we produce between 1.2 to 1.5 million words.

Our content writing services are powered up by our team of 40+ talented writers and six to eight experienced editors. We have three content managers, each with a sub-team of writers to oversee and guide on a day-to-day basis. The content managers are responsible for ensuring the timely delivery of content pieces, resolving queries from writers/editors regarding projects, and providing regular feedback to writers for quality improvement, among other things. We also have a content specialist to perform final quality assurance checks on the deliverables to ensure they meet the highest quality standards before they're finally delivered to the clients.
Here is their hierarchy. It's quite simple for a team of this size: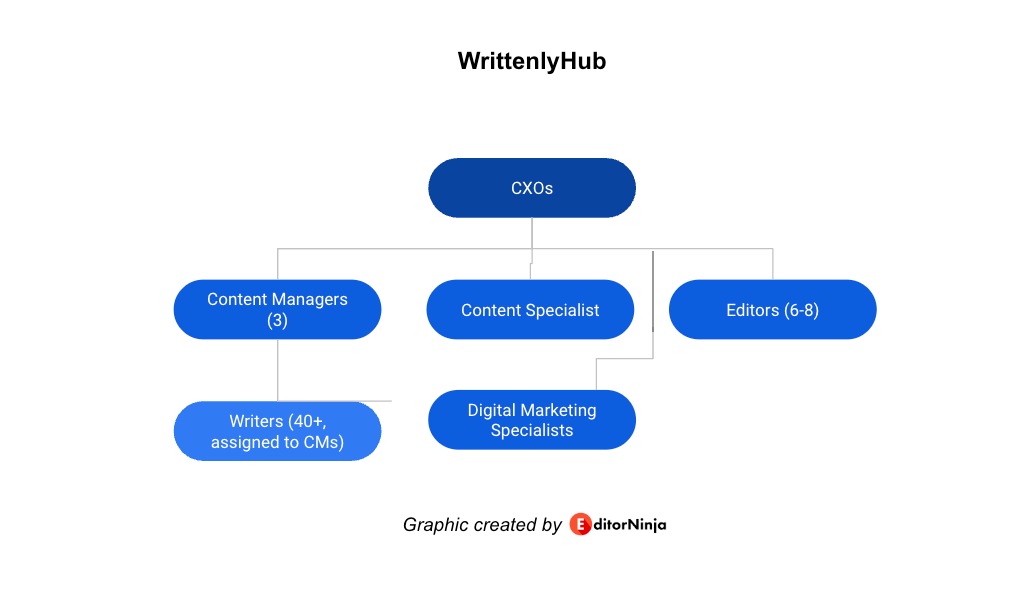 Here are their roles and responsibilities:
| | |
| --- | --- |
| Role | Who |
| Strategy | Content Specialist and Digital Marketing Specialists |
| Creator(s) | Writers |
| Editor(s) | Editors |
| Ops/management | CXOs |
SpearGrowth
Company type: Agency
SpearGrowth is an India-based digital marketing agency, specializing in SEO and ads. Their SEO lead, Sourajit Mukherjee, told us:
We are a B2B SaaS Marketing Agency, and we do two things: Ads & SEO. Hence, we have three teams at the moment: the Ads team, the Content team, and the SEO team.

The content team is led by a Head of Content, she reports directly to our Founder & CEO. The content team consists of four copywriters, all of whom have expertise in B2B SaaS, and one content strategist. All of them report directly to the Head of Content.

We also have an in-house designer and product marketing specialist, who help create product pages.

The team churns out around two to three blog posts per month as well as one to two landing pages and loads of Google and Linkedin ads copy, both for our clients and in-house.
Their team hierarchy looks like this: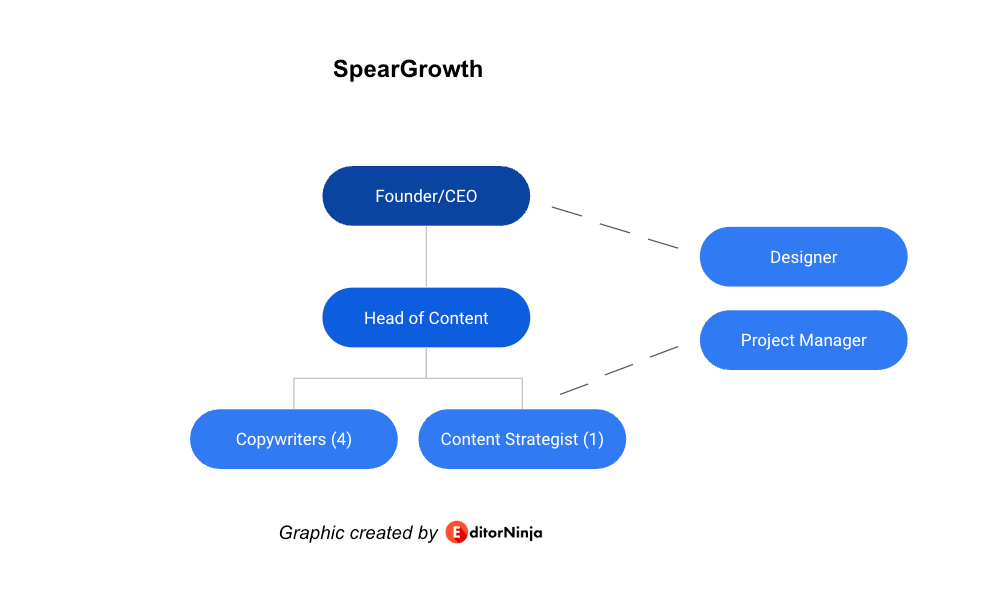 Their roles break down like this:
| | |
| --- | --- |
| Role | Who |
| Strategy | Head of Content |
| Creator(s) | Copywriters |
| Editor(s) | Head of Content |
| Ops/management | Head of Content and Founder |
Ready to Outsource Your Editing
EditorNinja is a flat-rate content editing service powered by professional editors, most of whom hold two Master's Degrees. Every EditorNinja subscription customer receives a primary editor who gets to know your content, as well as a backup editor who can step in when needed. You'll never be left holding the editing bag when you use EditorNinja. And, you can scale up output at any time.
Schedule a free editorial assessment today to see how using EditorNinja can save you days of time, buy back hours that you can use to create more content or work on other things, and save you $50,000+ per year over hiring a full-time in-house editor.