One of my cardinal rules of building companies is listening to what people want to buy. If I hear it once, then I note it down. If I hear it twice, I pay attention. And if I hear it three times, then I know it's time to think seriously, scope and prioritize, and ultimately build if it makes sense.
A few weeks ago I had a call with someone who doesn't plan their agency's content production far out, so a subscription to EditorNinja doesn't make sense to them right now. But they did want to buy a set of words to use over time.
I said we didn't have that yet, but after the call started wondering "why not?"
Then a week or so later someone bought a similar option that was available to subscribers only. That was the push I needed.
Introducing: Word Bundles
This week, we released Word Bundles where you can buy a bundle of words to use over the next twelve months.
Pricing scales down as you buy more words. Pricing is further reduces for monthly ongoing subscribers who want or need to increase their capacity in a given month.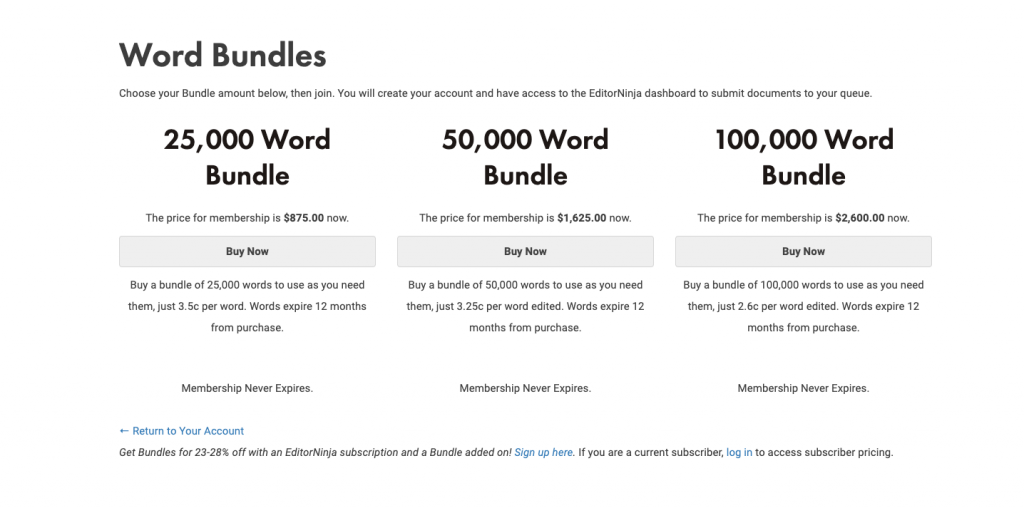 How It Works
Word Bundles are straight forward.
First, go to the Word Bundles page and select the amount you'd like to purchase.
Then, check out via our secure payment gateway, powered by Stripe.
Next, you'll create an account and join EditorNinja, accessing the Dashboard.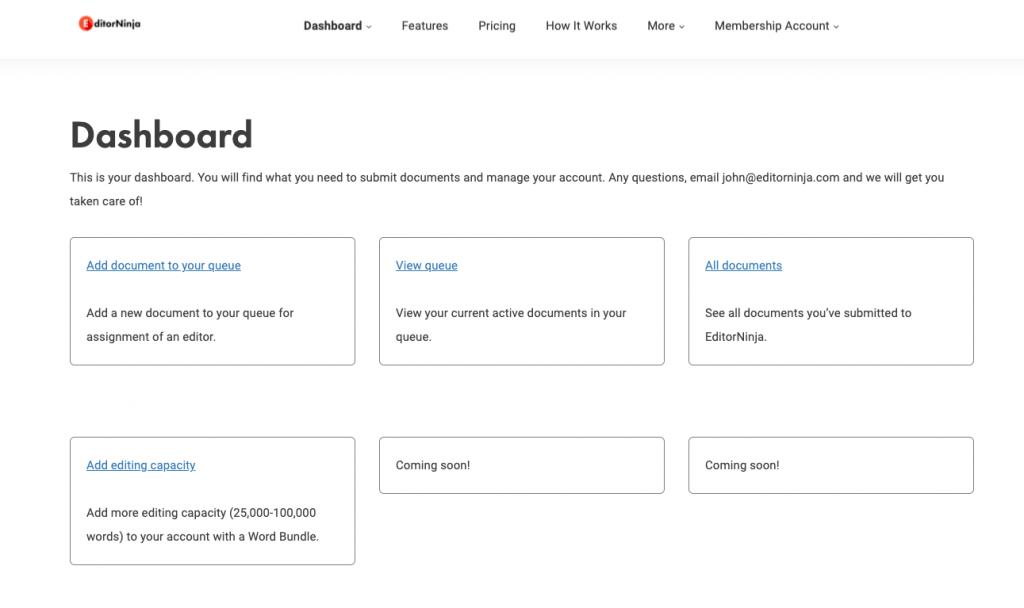 From there, you can upload documents to your queue for editing. For Word Bundles, we edit about 2,000 words a day maximum. If you need more, reach out to support@editorninja.com and let's discuss.
You'll then see within your Queue all of your submitted documents, as well as:
when they'll enter editing
when they'll be returned, and
who your editor is.
We have both a card view (like Trello or other tools) and a table view.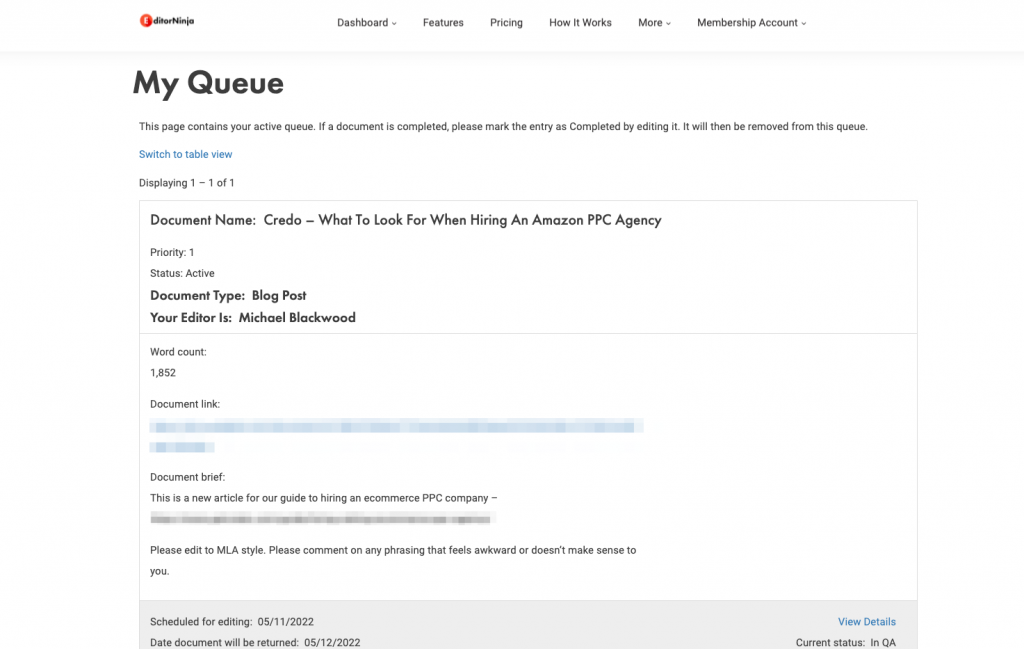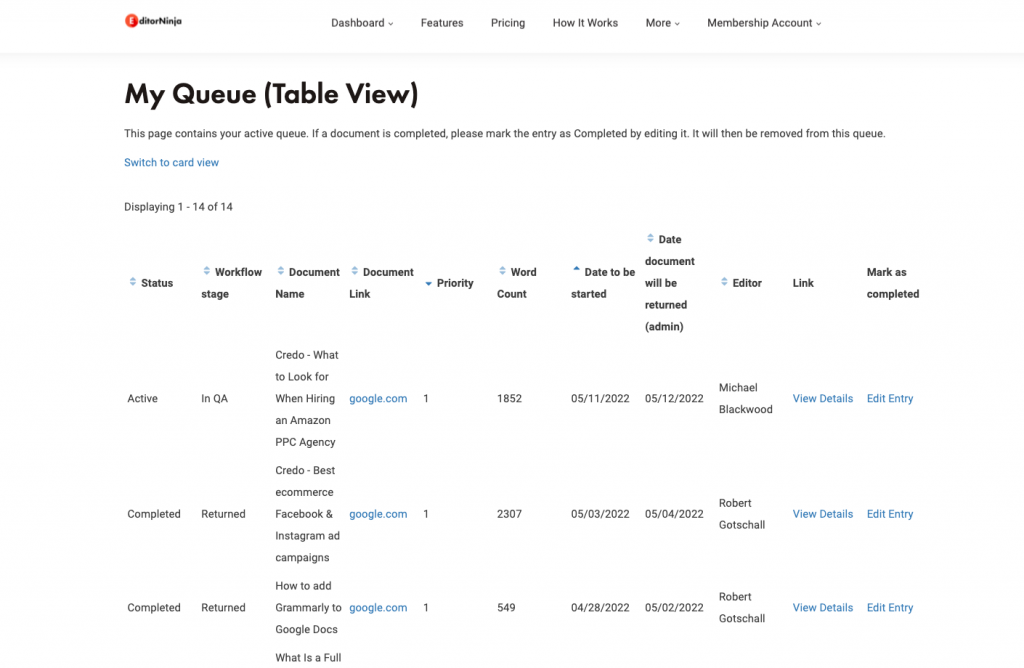 Every week, someone on our team reviews accounts and updates your balance. This will soon be displayed within the app as well. If you ever need to know your balance, simply email support@editorninja.com and we'll be happy to help you out!
When your balance runs low (under 5,000 words), we'll reach out and see if you want to top it up with more words.
How It Works For Monthly Subscribers
For monthly subscribers, it's a bit more straight forward!
When logged in, find the Add-Ons link under the More dropdown: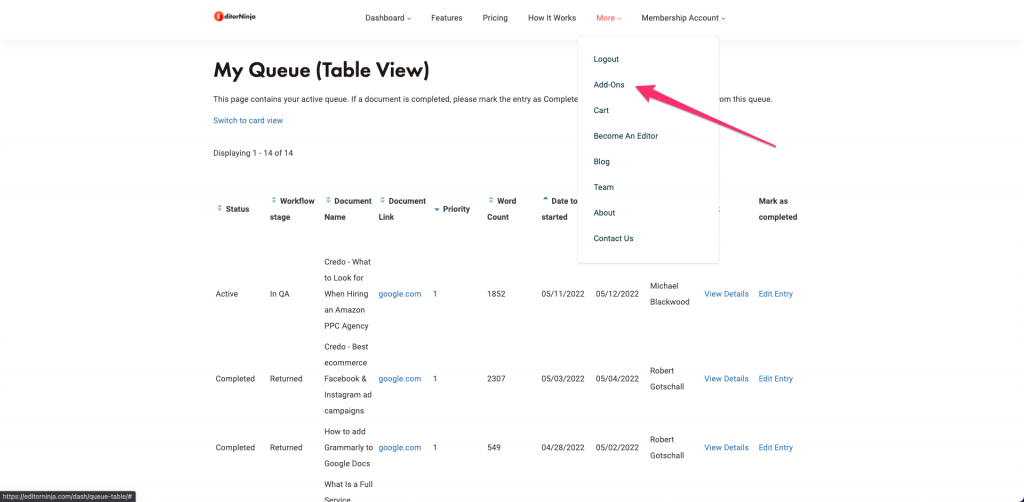 On that page, you will find links to each of the bundle sizes – 25,000, 50,000, and 100,000 words are available. A bundle is basically an e-commerce product on EditorNinja.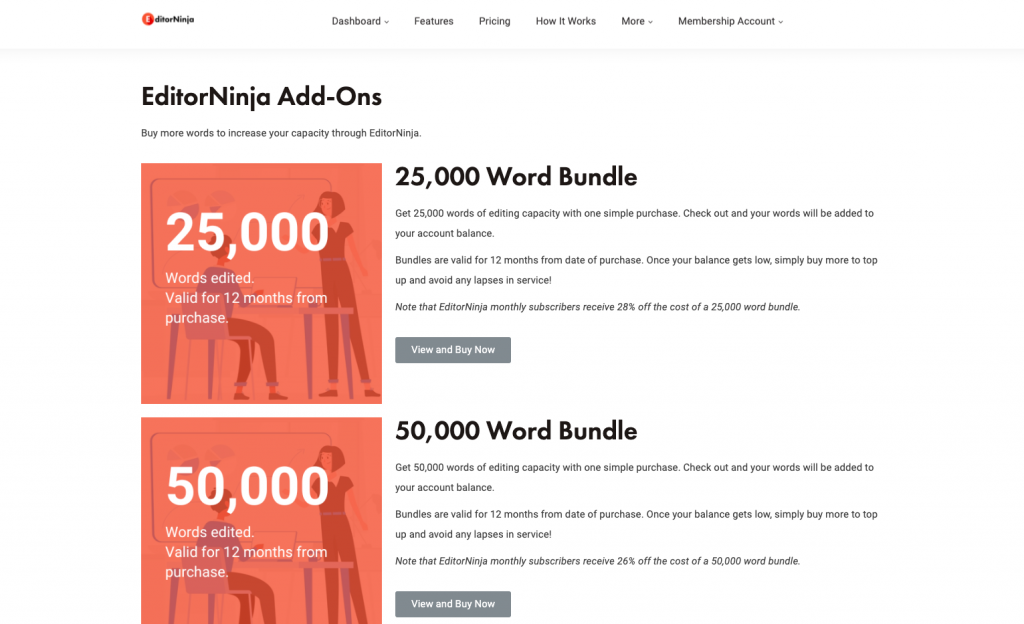 Click into the one you want, then add it to your Cart: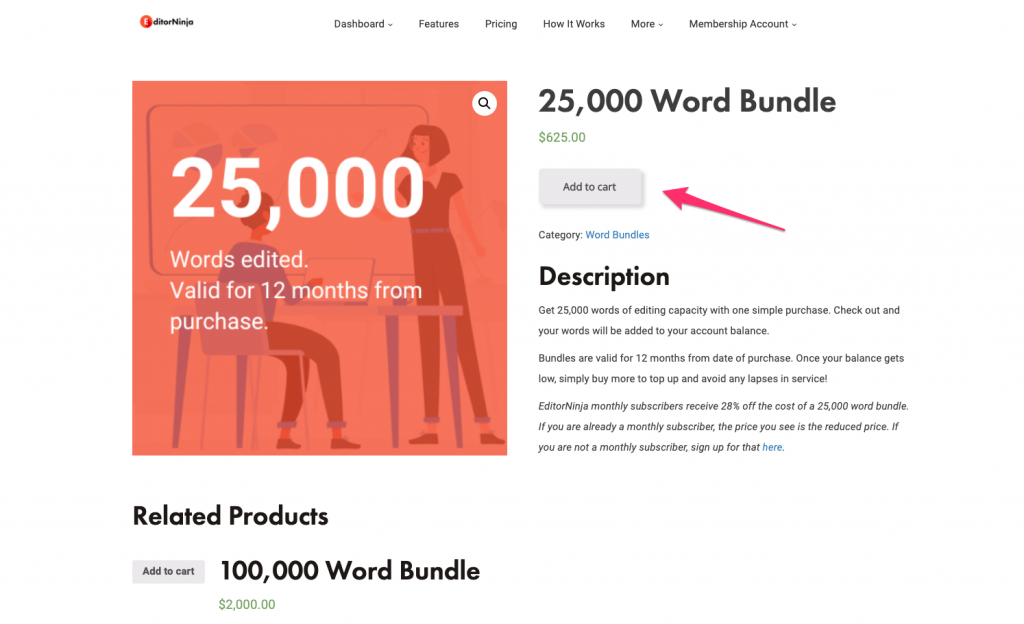 Then go to your cart (via the link on the page or in the More dropdown menu option) and check out with your credit card. Your words will be added to your balance.
It is important to note that Word Bundles never expire, unlike your monthly allotment of 15,000 words on your subscription. You just have to use your Bundle words in the next 12 months!
Monthly subscribers also get a steep discount on Bundles, ranging from 28% off on 25,000 words to 23% off on 10,000 words. It pays to commit to monthly editing!
Here's a simple way to think about Bundles when you're on a subscription:
You're a monthly subscriber, so you upload documents and your dedicated Managing and Lead Editors take care of you.
If you just use 14,000 words that month, then you don't use any from your balance.
If you use 20,000 words in a month, then you've used your 15,000 allotment from your subscription plus another 5,000 words from your Bundle.
We're Here To Serve
As you can tell, we're committed to building the premier on demand copy editing and proofreading service on the internet. We listen to your feedback and do everything we can to bring a consistent and high quality service to the market.
Ready to get started?
Schedule a free editorial assessment today to discuss your needs and we'll help you find the right plan for your needs.