Content writing and content editing go hand in hand, just like peanut butter (or almond butter in my case) and jelly. Just like you should outsource editing to EditorNinja, you may also need to outsource your content writing to a content writing service that you can trust.
There are a lot of content writing services out there, so how do you know which one to use? This article is going to unpack what a content writing service is, how to determine which content writing services to try, and then we will make our recommendations around content writing services that you should try.
What is a content writing service?
Content writing services help companies easily get blog posts, white papers, and other forms of content created without the pain of hiring and managing freelancers.
Content writing services and platforms specialize in sourcing the best of the best writers who have subject matter expertise. They then make it easy for you to request content from them around topics that you have identified that will be useful to your company, or for sales and other marketing purposes.
Some content writing services also offer strategy services, like blog post topic ideation or creating a content style guide so that the content returned to you is more in line with your company standards.
Like most things online these days, there are a variety of content writing services. Some specialize in content like blog posts, others specialize in content specifically for SEO, some specialize in specific verticals, and still others are powered by artificial intelligence to help you unleash your creativity and overcome writer's block because they take care of the first draft for you.
Why outsource to a content writing service?
Content writing services are fantastic for companies that need or want to quickly scale up their content writing capacity without the pain of finding, vetting, hiring, paying, and managing a team of freelancers. Content writing services take care of all of that so you can simply focus on getting great content created and out to the world to help you grow your business.
Some companies prefer to hire content writers in-house. That is fine, and often we see that companies using content writing services see the most value when they have a hybrid model of some writers and strategists internally while also working with a content writing service to produce the bulk of their content.
Content writing services we recommend
There are many content writing services out there on the internet, but we can't say that we recommend them all. Instead of telling you the content writing services we do not recommend, let's focus on the ones that we do.
Verblio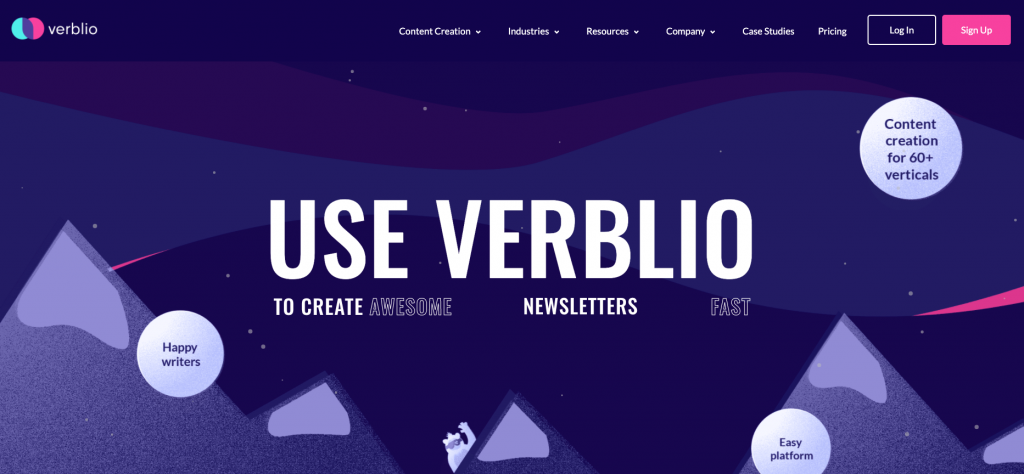 Verblio is a leading content writing service and marketplace that produces content for a wide variety of companies and industries.
From blog posts to ebooks, newsletters to podcast show notes and press releases, Verblio has a large network of freelance writers who are experienced and return great content to you. The best part is that if a piece is written that is not up to your standards, you don't pay for it. Verblio is the content platform we trust most, as we know their leadership team personally and know how much they care about quality and their customers.
Give Verblio a try for your content needs
ClearVoice

If you're an enterprise-level company, you may need a fully managed service with an outsourced content creation team. That's where Clearvoice comes in.
Founded by digital marketing veterans who understand producing content for the web and search engines at scale, Clearvoice helps enterprise companies scale their content creation and publishing efforts.
Audience Ops
Audience Ops is done-for-you content marketing and content writing. From the start, you are assigned a content manager and a writer that has expertise in your area. You work with your content manager to define the topics alongside your keyword research, and then they write and return ready-to-publish high-quality content to you that has been written by their top-quality writers.
Their process-driven content services ensure that you get great content for a very reasonable price.
Writer & Co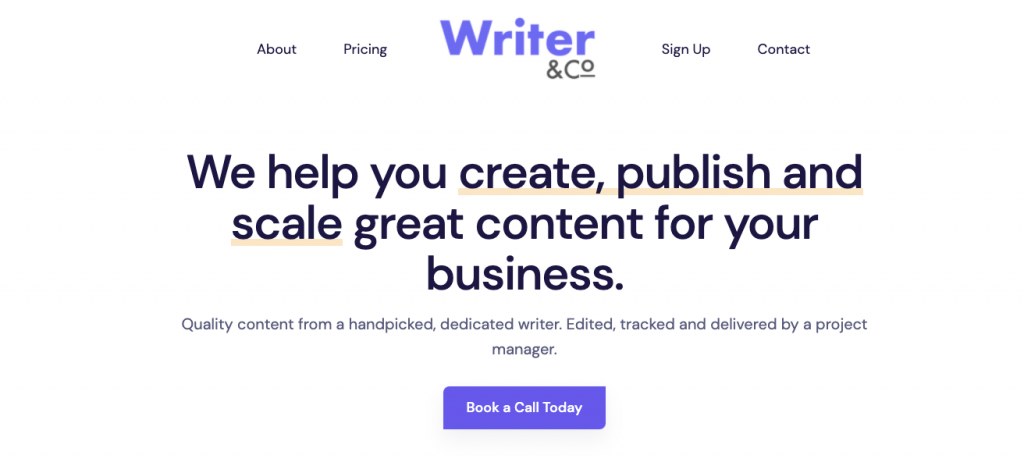 Writer & Co, formerly known as Talent Tree, are a relatively new entrant to the market that focuses on producing high-quality web content for a very reasonable price. Mostly using English-speaking writers out of Eastern Europe, Writer & Co pairs you with a dedicated writer who creates ~1,500 words of content a day for your business. It's fully managed and easy to get going.
Searching For An Editor For Your Content?
Finding professionally trained editors in a freelance capacity is difficult. That's why we built EditorNinja, where you get professional-level editing without the headaches of finding, recruiting, managing, and paying editors. All EditorNinja editors are MFA trained.
If you're looking for someone to give your content the editing polish it needs (or that your clients ask for), get in touch today for a free no-obligation chat.