When you're investing in content marketing as a growth strategy, at some point you will find that you're unable to handle creating all of the needed content in-house.
You could look for some freelancers to work with. You'll find that finding them is a challenge, but so is managing quality and payment to each one. In fact, it can become a logistical nightmare.
This is why many companies eventually hire a content marketing agency to help them scale content production while keeping quality high. Good content agencies have a proven process for producing top quality content at scale, often by either hiring subject matter experts or working with a content production service like Verblio to tap into their network of expert writers.
So who are the best content marketing agencies to consider working with? These are our picks, but you can also find more on Credo.
Top Content Marketing Agencies
Here are the top content marketing agencies we know and have seen work from, so you know you can trust them.
Codeless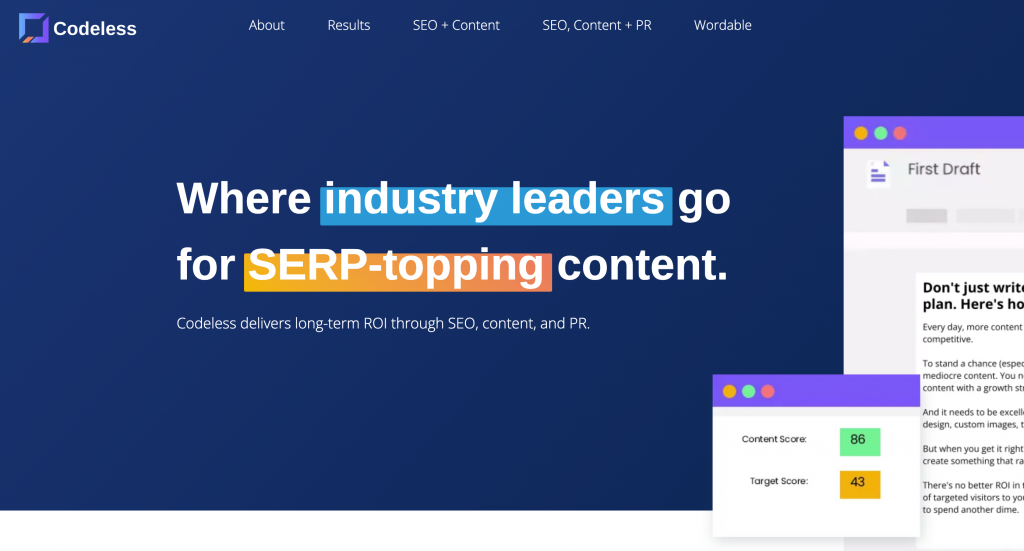 Codeless is a content marketing agency mostly focused on B2B SaaS companies. They produce high quality blog and marketing content at scale for their clients to drive organic traffic and customer acquisition.
Leveraging tools like Frase as well as services like EditorNinja, Codeless is able to produce content that B2B SaaS brands are proud of and will drive SEO traffic for years to come.
Elevato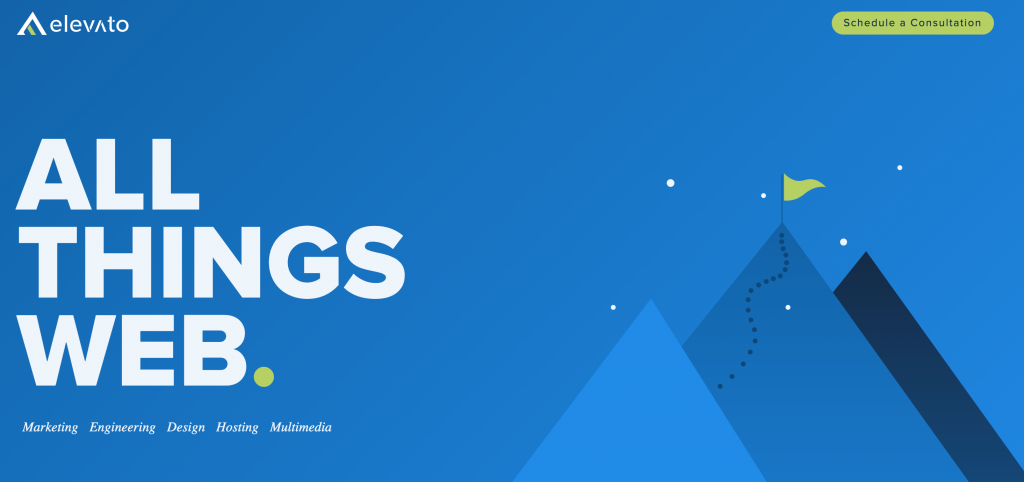 Elevato Digital is a full service digital marketing agency that produces content for clients across a range of industries. Leveraging a network of writers, their content strategists build the strategy and then execute upon it consistently to drive traffic. From SaaS brands to e-commerce companies and local businesses, Elevato produces content that delivers results.
iPullRank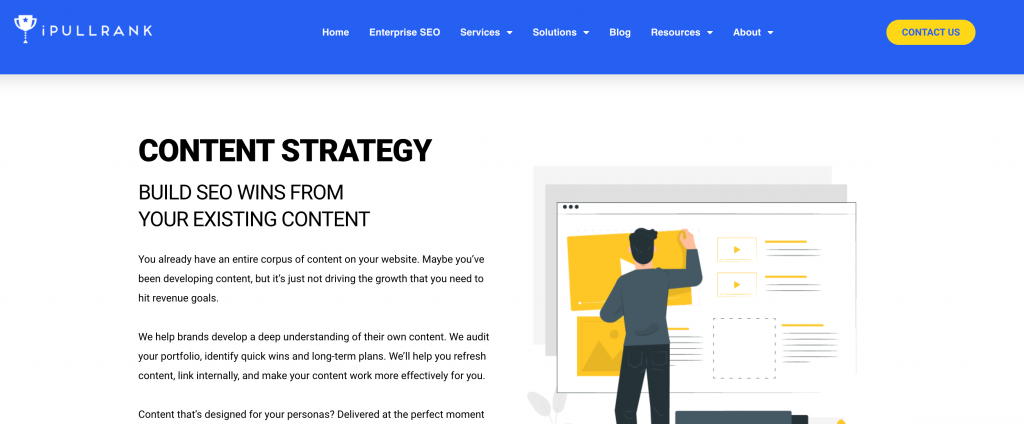 iPullRank, founded and led by international marketing icon Michael King, is an enterprise SEO agency serving Fortune 500 clients. A major section of their services is their Content Strategy and Marketing department. From new content to updating existing content assets so they rank again, iPullRank focuses on content that their clients are proud of and drives them measurable marketing results.
Avalaunch Media

Avalaunch Media is a full service digital marketing agency based in Utah. Avalaunch was founded by expert digital marketers who found success creating content-driven brands, and over the years they have invested in a first-rate team that understands digital and content marketing at a deep level to drive results.
Siege Media

Founded by noted industry expert Ross Hudgens, Siege Media is an SEO content agency focused on content that builds brands and attracts external links to help their clients rank better, drive more traffic, and get more business from organic channels.
Whether blog posts, white papers, or even interactive and graphic content, Siege Media is a serious consideration for any brand needing high end content marketing and content development.
Foundation Inc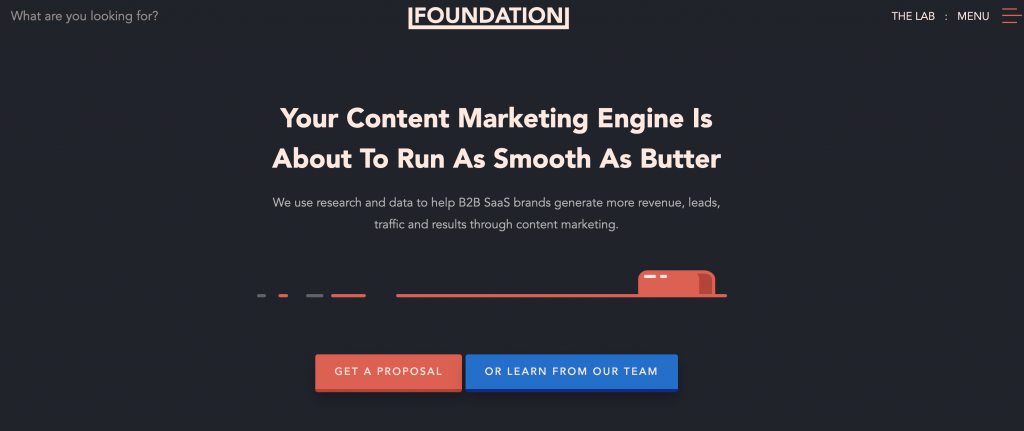 Foundation Inc, founded by veteran marketer Ross Simmonds, is a Canada-based content agency for B2B brands.
What makes Foundation Inc different from other content agencies is their focus on distribution. Ross consistently hammers home the importance of not only producing content that your audience will love, but also spending more time actually getting that content in front of that audience around the web.
Omniscient Digital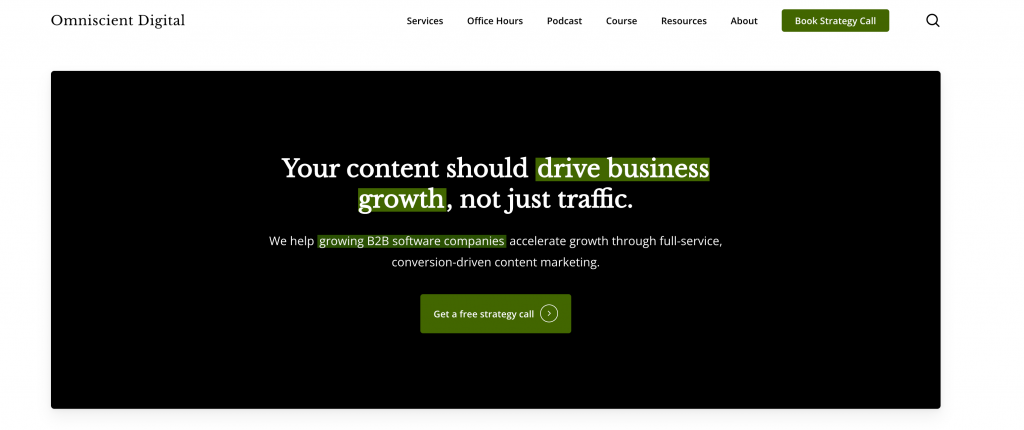 Omniscient Digital is a relatively new content agency on the landscape, but they're making a splash and producing great results for their clients. Founded by former HubSpot and Shopify marketers, Omniscient works with primarily B2B brands like AppSumo and Jarvis to drive organic traffic via content marketing.
Animalz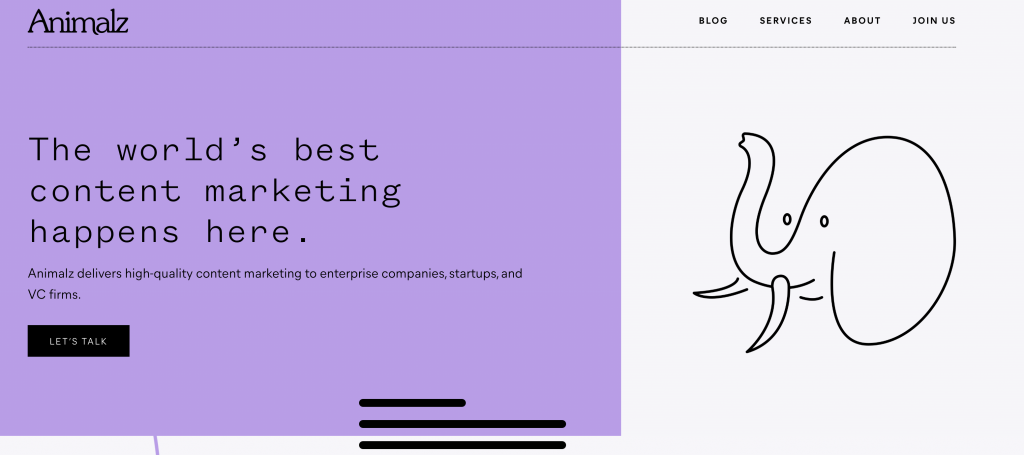 Animalz is a content marketing agency for SaaS companies. As a global remote team, Animalz is one of the larger content agencies in the space. They have experience across a wide number of verticals and industries. They focus on content that makes thee internet better and delights their clients.
Aira (UK)

Based out of the UK, Aira comes from a link building background but has layered on digital services across the board. Founded by former Distilled consultant Paddy Moogan, Aira's focus on SEO and content marketing for primarily UK brands makes them worth a look if you're in the UK.
Need Content Editing?
If you're working with a content agency, make sure they're working with world class editors when producing your content. If you're producing content in-house and need editing help, we would love to speak with you about EditorNinja's editing services. Schedule a free consultation here to see how we do editing differently.
EditorNinja is an affiliate for some of the services we recommend. We only recommend services we've actually used, so you can be sure they are top quality. EditorNinja may receive a commission on any sales.