Creating content meant to generate leads in 2023? Schedule a free editorial assessment with our team to learn more about how EditorNinja can help you accomplish this goal.
If you're looking to generate more leads in 2023, you've come to the right place.
Lead generation is a tough business. Markets change. Competitors change. And as prospect mindsets change, sales processes need to change too.
To procure the budget to invest in more lead generation, you'll need statistics to back up your ask. While you can take your own internal data, referencing insights from other experts can be the key to getting the budget you need to truly make a difference.
To help you out, we've rounded up 28 statistics all about lead generation that you can use to get buy-in for lead generation activities.
We'll review some general statistics on lead generation first, then some specifically for business-to-business (B2B) enterprises, and finally, stats on content marketing. Feel free to quote them in your content as well!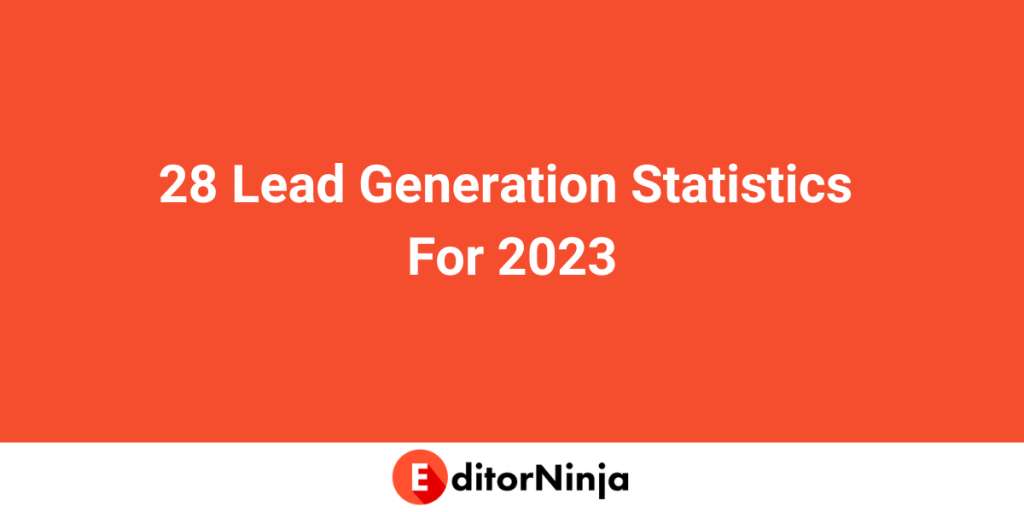 Lead Generation Statistics
Keep these 17 lead generation statistics in mind in 2023.
Lead generation is 2x more popular in 2022 than 2017
As more companies have learned the value of generating leads from the internet, whether local, national, or international, interest in lead generation strategies has more than doubled since 2017. Lead generation was growing in popularity at a steady clip before 2020, and the Covid-19 pandemic only accelerated that trend.
Takeaway: Lead generation is more popular than ever, and therefore it's more competitive than ever.
61% of marketers rank lead generation as their number one challenge (Hubspot)
With so many businesses generating leads online, it naturally follows that lead generation is the number one challenge for many marketers.
After that, their challenge is qualifying leads that are then sent to their sales team. If marketers can't generate qualified leads, they end up in a blame game between marketing and sales where marketing says the sales team can't close and the sales team says the leads are junk.
Takeaway: If lead generation is your number one challenge, you are not alone.
53% of marketers spend at least half of their budget on lead generation (Source)
Over half of marketers spend over half of their budget on lead generation. This means half of their budget is spent on top-of-the-funnel activities while the other half is spent on lead nurturing and more general "branding" activities.
Takeaway: If you're not spending at least half of your budget on lead generation, you are probably not spending enough and are being outspent by your competition.
Inbound marketing-dominated organizations experience a 61% lower cost per lead (Source)
Gone are the days of just throwing money at advertising to generate leads. Especially online, ad platforms become more expensive as they become less effective.
Inbound marketing-dominated organizations that prioritize channels like SEO, content marketing, referrals, and affiliates experience a 61% lower cost per lead (CPL) over time.
Takeaway: You can likely reduce cost per lead by investing in inbound marketing.
Outbound leads cost 39% more than inbound leads (Source)
To follow up on the above, outbound leads cost more than inbound leads. If an inbound lead can be generated for $100, it will cost on average $139 to generate a lead via outbound methods like email or cold calling.
Of course, it's unclear how qualified leads from outbound are, and the quality varies by industry and the strategies that are employed. It is very possible that inbound channels generate MORE leads, but leads from outbound are much more qualified and thus outbound programs are more effective for the business.
Takeaway: Outbound leads tend to be more expensive than inbound. A combination of the two strategies is probably your best option.
80% of marketers think marketing automation generates more leads (and conversions) (APSIS)
The vast majority of marketers think that marketing automation helps them generate more leads and convert more of those leads into customers.
It makes sense that this is true, as generating and nurturing leads at scale is close to impossible to do well manually. Using tools that help you identify more prospects, reach them in a scalable way, and then keep in contact with them until they convert is the only way to win.
Takeaway: Manual work doesn't scale. Invest in marketing automation to generate more leads that convert.
80% of marketers consider their lead generation efforts only to be slightly or somewhat effective (Source)
While 61% of marketers say that lead generation is their biggest marketing challenge, a full 80% say that their lead generation efforts are only slightly or somewhat effective.
This means a lot of marketers out there are spending a lot of money (50% or more of their budget) but just 1 in 5 would say their efforts are effective.
Takeaway: There is a lot of wasted marketing spend out there, and most marketers have not cracked the code of effective lead acquisition.
57% of marketers say that getting targeted prospects to engage is the biggest challenge to generating new leads (Source)
The world is noisy these days — marketers are competing against not only each other but also against distractions like social media, Netflix, and more.
Thus, getting prospects' attention and getting them to engage is a big challenge. Marketers need to research their customers to a deep level and understand their motivations as well as when they are most likely to convert (At work? On the couch scrolling Instagram while not paying attention to Netflix?) and then seek to be there as often as possible.
Takeaway: Getting prospects engaged is a large challenge for the majority of marketers.
63% of leads who inquire about your business won't convert for at least 3 months (Source)
Even when you get a lead to convert, you must remember that almost two-thirds of them are not ready to buy and will not be for at least 3 months.
This is why it is so important to have a solid lead nurturing program and for your sales team to seek to add value through the conversion funnel instead of simply pushing for a conversion right away.
Takeaway: Build a longer-than-expected time to convert into your growth and acquisition models.
84% of marketers use form submissions to generate leads (Source)
The most popular way to generate leads is still lead forms, though calls and live chat (33%) have grown as well over the years.
While forms are the most popular way to generate leads, many forms are ineffective because they are either too long (and conversions suffer) or too short (which leads to a lot of unqualified leads).
Takeaway: Forms still rule the web, but marketers and those who submit leads are becoming accustomed to other forms of getting in contact with you.
Only 33% of marketers use live chat as a conversion tool (Source)
While it may seem like every website in existence now has a live chat widget like Intercom or Drift, the reality is that only one-third of marketers say they use live chat as a conversion tool.
This means opportunity exists in a lot of markets to use live chat effectively because most competitors are not using it. In fact, our friends at Leadferno are tackling this issue.
Takeaway: In many verticals, live chat is still not widely used, presenting an opportunity for you to generate leads in a different way than you have before.
Only 27% of marketers stated organic search generated the most leads (Source)
Surprisingly, just 27% of marketers have stated that organic search generates the MOST leads for their business.
SEO still drives a lot of traffic on the internet though, at least 50% on many websites, but it has become increasingly difficult to rank in the top 3 results that drive the most traffic and leads.
Takeaway: While SEO is still very important for any brand, it may be less effective now than in the past because competition is higher than ever.
21% of marketers said that organic social generated the most leads (Source)
1 in 5 marketers said that organic social generates the most leads for their business. I suspect this is more true for B2C rather than B2B businesses, but many B2B businesses generate qualified leads through social platforms like LinkedIn.
Takeaway: Don't sleep on organic social media. Consider visual platforms like Instagram or Tiktok, especially if your ideal audience is spending a lot of time there.
11% of marketers said that paid search generated the most leads (Source)
Just 1 in 10 marketers says that paid search generates the most leads for their business, out of all the marketing channels. This is likely because ad platforms have become increasingly expensive, and some like Facebook have become much less effective over the last few years.
Remember the caveat from above though: more is not always better. If the leads generated via paid search are more buying-minded than leads from other channels, paid search could be your most lucrative channel.
Takeaway: Paid search still works! It may not drive the most leads of all channels for the vast majority of marketers, but it is still a widely used channel and can still be very effective for leads that convert at a high rate.
Only 56% of B2B companies verify business leads before passing them to the sales team (Source)
The old marketing-vs-sales competition, unfortunately, continues to exist because a lot of marketers, just under half, do no qualification or verification of leads before passing them to the sales team.
Marketers are too often rewarded on raw "leads generated," whereas sales teams are compensated based on the deals they close. Moving towards a better compensation structure, where marketing and sales partner to get more qualified leads, would fix this.
Takeaway: Verify your leads before you pass them to your sales team, and you can avoid the drama that all too often occurs between marketing and sales. Executives should also take care to align incentives between marketing and sales.
Over 79% of generated leads end up not converting into sales (Source)
Said another way, just 1 in 5, or 21%, of leads convert into a sale. This isn't to say that the lead is completely unqualified and didn't sign with a competitor or solve their problem in a different way, but 21% in most industries is lower than average and leads to the constant need to generate "more leads."
We're talking about lead generation here, but improving sales processes is often the number one way to make lead generation more effective and to be able to justify putting more budget towards lead generation activities.
Takeaway: Use this statistic to build better growth projections based on your other metrics. If you are just beginning to project growth and do not yet have your own statistics, you can use this number to start, then use your own statistics later on to both be more accurate and to know if your sales team is over or underperforming.
59% of marketers admit that the most challenging lead nurturing strategy is creating content (Source)
3 in 5 marketers say that creating content that can be used in lead generation and nurturing is a challenge. This is also why so many companies work with content agencies to produce content.
Couple this with the fact that 80% of marketers say their lead generation activities are ineffective, and you can see that the content world wastes a lot of budget.
Takeaway: If nurturing leads is a challenge for you, you are not alone. Leverage outside providers and figure out how to turn one content asset into multiple, across multiple platforms, to nurture leads wherever they may be — without having to produce MORE unique content all the time.
B2B Lead Generation Statistics
These B2B lead generation statistics can help you justify more budget towards your campaigns.
91% of (B2B) marketers say that lead generation is their most important goal (Source)
Business-to-business, or B2B, businesses often involve high ticket sales that require a salesperson to get on the phone with a prospect. Thus, generating leads is the most important goal for any B2B marketer.
I assume that the other 9% are in verticals where demand is so high that their sales team has trouble satisfying demand, or the marketer works in lifecycle or other marketing and thus is not responsible for lead generation.
Lead generation should be the number one priority for every B2B marketer.
Takeaway: The B2B space is swarming with competition. If you as a marketer can prove that you are effective at generating leads, you will be very in-demand for jobs or your company will have an influx of demand for your services. Selling leads to B2B businesses can be a very lucrative business.
91% of B2B marketers use content marketing to generate leads (Source)
Not surprisingly, 9 in 10 B2B marketers admit to using content marketing to generate leads for their business.
From blog posts to ultimate guides, white papers to webinars, content has proven to be an extremely effective marketing channel because it not only educates prospects but also helps them connect with your brand and voice before even getting on the phone with the sales team.
Takeaway: You may think that everyone and their grandmother is creating content these days — and they are — but the barrier to entry to high-quality content is still quite high. You can still set yourself apart from your competitors with content that educates and entertains.
B2B blogs with educational content get 52% more organic traffic than B2B blogs with company-focused content (Source)
Also not surprisingly, B2B sites with educational content on their blogs get 52% more organic traffic than B2B companies with just company-focused content. This makes sense because educational-focused content most often targets higher volume keywords than company-focused content.
Remember once again that more does not always equal better. There is always the chance, and a good one in fact, that the companies with just company-focused content do a better job of lead generation and don't have or feel the need to create educational content. Though of course they should take the statistic directly above this one into account and consider if educational content could help them convert more leads to buyers.
Takeaway: SEO is not dead, especially for generating an audience at the top of your marketing funnel. This traffic may convert at a lower rate than traffic to your conversion pages, but a wider net with a lower conversion percentage will still net more leads than a small amount of traffic that converts at a very high rate.
Content Marketing Lead Generation Statistics
Content marketing is one of the most effective ways to generate leads. Here are some statistics that will help you justify an investment in content.
Content marketing drives 3X more leads than traditional marketing (Source)
Content marketing has proven to be one of the most effective ways to generate leads online. In fact, it drives 3x more leads than traditional marketing. We can also use these statistics to say that leads from content cost a third of the price of leads generated via traditional means.
Takeaway: Want to reduce your cost per lead and get more leads at the same time? Investing in an effective content marketing program can accomplish that.
86% of business-to-consumer (B2C) marketers use content marketing to reach potential customers (Source)
Think content marketing is just for B2B? Think again. Almost 9 in 10 B2C (think retail e-commerce) marketers use content to reach potential customers. Think social media and interactive content instead of blog posts, but content is an extremely effective way to generate B2C leads as well.
Takeaway: There is a LOT of content out there, even in B2C verticals. If you're a creative or work for a creative agency, know that your services are likely in heavy demand and there is a lot of competition. Your content needs to stand out above the noise.
Overall, 76% of marketers use content to generate leads (Source)
Did you know that 3 in 4 marketers use content to generate leads? This means that if you're not creating content, you're in the minority and likely not being as effective in your lead generation activities as your competitors.
Remember, content is not just about generating new leads, it's also about converting leads to buyers.
Takeaway: Creating content is one of the most popular ways marketers try to generate leads. Being a content creator is a very good career to have right now.
Only 40% of marketers measure the success of their content marketing strategy by lead generation (Source)
While the goal of most content online is to generate leads, just 40% of marketers measure their content marketing by the number of leads it generates.
This is concerning. My guess is that so few marketers don't measure their success by leads generated because it's not as effective as they want it to be. That, or their bosses simply want to see "traffic" when they should be pressing for more concrete business-oriented numbers.
Data-driven marketers can really succeed in verticals or at companies where an emphasis is put on conversion metrics and not just traffic metrics.
Takeaway: Marketers may say leads are their number one metric and what they spend their time thinking about and trying to generate, but most don't measure success by that same metric. If you're a content marketer and can point to success in generating leads, you are in a strong position.
73% of B2B marketers believe that webinars are the best strategy for generating high-quality leads (Source)
Love them or hate them, webinars still provide a very effective, and many say the most effective, way to generate high-quality leads.
Tell them what you're going to tell them, tell them, tell them what you told them, and tell them how to solve their problem with your product or service.
Takeaway: Regardless of how you feel about them, webinars that educate prospects about solutions to their challenges are a very effective way to get leads. If you're not running webinars, you should consider doing it.
70% of B2B marketers think video content helps leads convert (Source)
Interestingly, almost 3 in 4 B2B marketers think video helps leads convert to customers. This probably explains the rise over the last few years of video-based sales tools like Bonjoro.
Takeaway: The YouTubification of the world continues. Video content is extremely effective for converting watchers to leads.
53% of marketers use interactive content to generate leads (Source)
In contrast to the above statistic, just 53% of marketers say they use interactive content, like video, to generate leads.
Why? Because it's expensive, harder to make high-quality than written content, and overall has a higher barrier to entry.
Takeaway: Even though most B2B marketers think video is effective, only half of the marketers surveyed are using interactive content to generate leads. If you can overcome the barrier to entry and your competitors cannot, your campaigns could do well.
68% of B2B companies use strategic landing pages to generate leads (Source)
Did you know that just 7 in 10 marketers use landing pages strategically to generate leads? While this is mind-boggling in the digital tech industry, there are a lot of opportunities to do better than your competition in other industries.
Takeaway: Targeted landing pages convert better than generic landing pages. If you're not creating unique landing pages for different offers or customer profiles, you should start.
Producing a Lot of Content for Lead Generation Purposes?
If you're generating content meant to generate leads, you need to make sure it's on brand and ready to convert instead of being a brand liability or worse, not performing at all and you don't know why.
That's why EditorNinja is here. Our professional editors will make sure that your content is buttoned up and ready to perform for your business.
Schedule your free editorial assessment today to learn more.