This article is all about the best grammar editing software, but did you know that EditorNinja provides grammar editing services? We'd love to edit your content for you. Click here to schedule a free editorial assessment to learn more.
As a content creator or company creating content, you know that your copy should not only be persuasive and achieve your goals but it should also be grammatically correct and free of typos.
Even the best writers make mistakes, after all. According to editors commenting on this StackExchange thread, 1 typo per 1,000 words is simply too many and most of them aim for about 3 per 10,000 words (or on average 1 per every 3,333 words).
Professional editors of course are extremely valuable and are a necessary part of any content team or company. EditorNinja wouldn't exist if they weren't!
But technology has also enabled computers to do some of the more tedious work that editors have always done. Technology is a beautiful thing, and so we too embrace it here at EditorNinja to help our editors do an even better job than they'd do on their own. While we embrace it, we also know that human editors can make judgment calls and spot errors that even the best technology cannot.
Grammar checking apps have become very popular over the last few years, and since we use them ourselves we figured we'd round up the best grammar checkers available so you too can check them out and use them to make your writing better before even hiring an editor or working with EditorNinja for that final pass over your content before it's published.
Here are the top 7 grammar editing apps available for you to check out and use to ultimately improve your copy. As you will see, almost all contain both free and paid plans as well as a Chrome extension you can use to check your writing as you write in your browser.
These listed grammar editors are all self-serve tools that you can leverage to write better copy and do some basic edits yourself. If you want to save time with an affordable editing service that lets you focus on strategy and creation, EditorNinja is here for you. Start here today.


Options available: Free and paid
Chrome extension available: Yes
Grammarly is almost indisputably the most popular grammar editing tool out in the market today. Just check out Google Trends: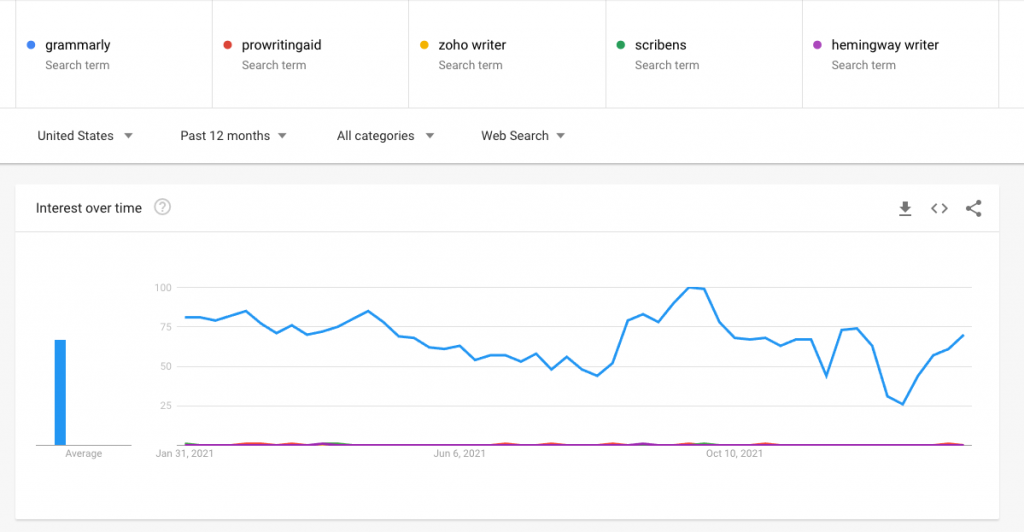 Grammarly is an online writing assistant that scans your text for common grammatical mistakes (like misused commas) and complex ones (like misplaced modifiers). Its easy-to-install-and-use Chrome extension enables you to correct your writing in real-time so that it's consistent and ready to publish.
ProWritingAid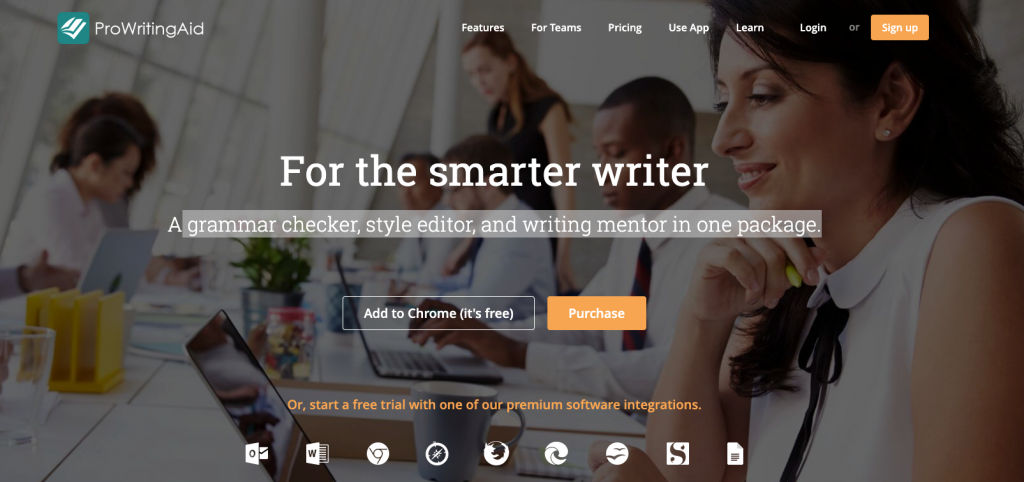 Options available: Free and paid
Chrome extension available: Yes
ProWritingAid is "a grammar checker, style editor, and writing mentor in one package." It is a full featured tool that specifically helps various types of writers, such as creative or business writers, write copy that better meets the needs of their audience.
Whether it's sentence variety, passive voice, or readability level, ProWritingAid grades your writing across various pre-defined areas to help you improve as you go.
Ginger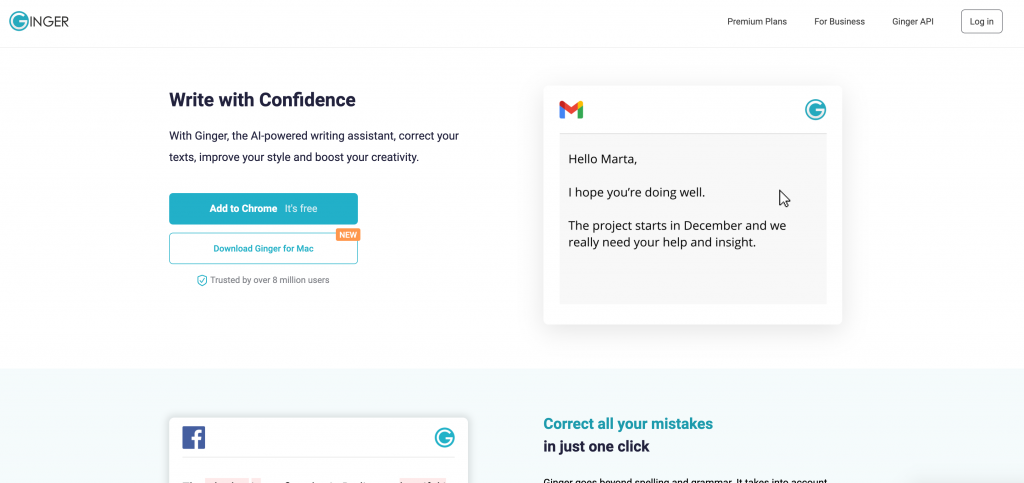 Options available: Free and paid
Chrome extension available: Yes
Ginger is an AI-powered writing assistant that helps you improve your style, write correctly, and "boost your creativity" they say. It's easy to edit your documents in one click, and their alternative phrasing suggestions help you vary your style so your writing is more interesting and creative.
Ginger offers a Word plugin, Chrome extension, desktop app, mobile app, and even an API to build your own integration. It works across operating systems and devices, so you'll be able to use it regardless of your technical setup.
Zoho Writer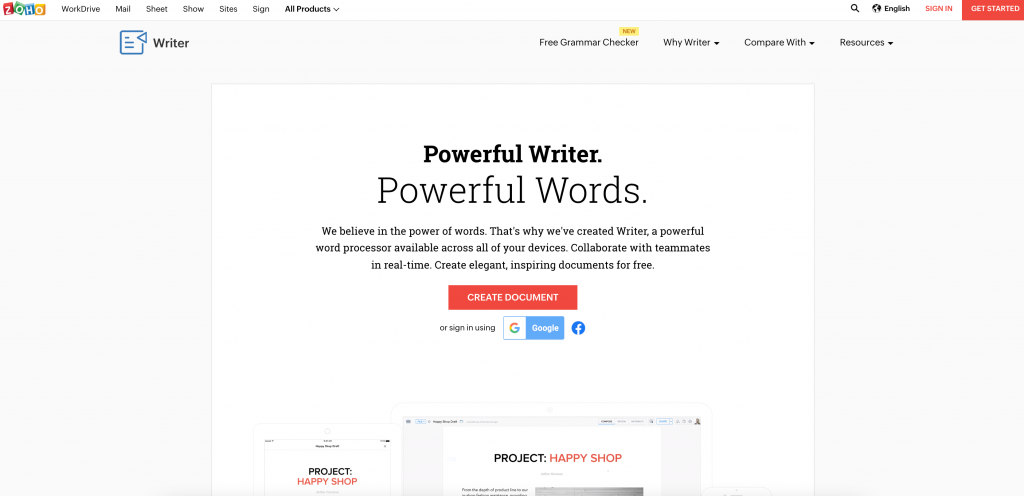 Options available: Free
Chrome extension available: Yes
Zoho Writer, created by the team behind the Zoho CRM and software suite, is a powerful document processor that works cross-device and allows you to collaborate with your teammates in real-time. They have a writing assistent, tracking and editing tools, and ways to integrate with WordPress and Zoho CRM when needed.
All in all, an interesting option that fits a certain set of needs. If you're just looking for a grammar editing tool, it's probably overpowered. But at the attractive price of free, give it a try.
White Smoke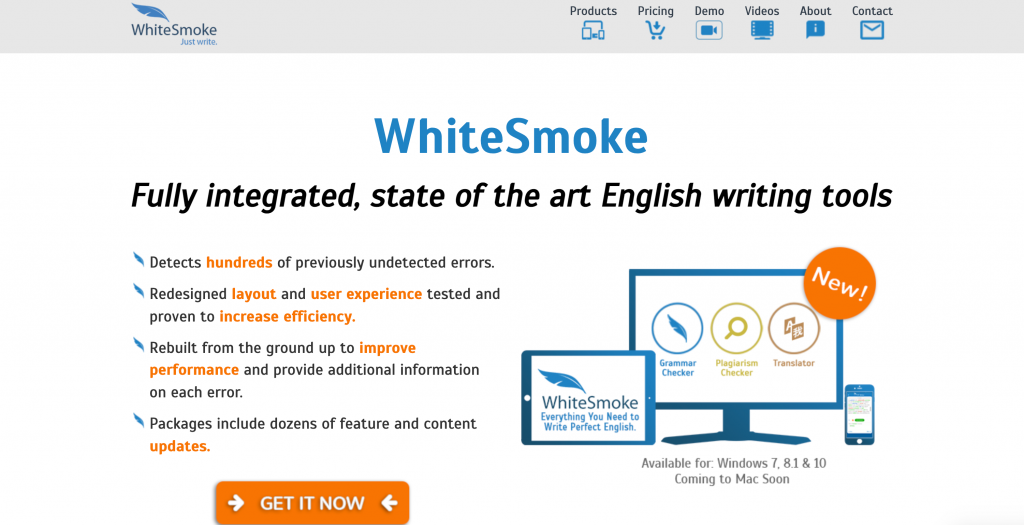 Options available: Free and paid
Chrome extension available: Yes
White Smoke is an English grammar editing tool. It gives you high powered grammar editing tools and also suggests grammar edits and corrects style mistakes on the fly.
White Smoke is available on both desktop and web. They're backed by a publicly traded company, so they've been around for over 20 years and have invested a lot in their technology. Their website isn't fantastic at this point, but their software apparently is. It is currently only available for Windows users, but they say their Mac app is coming soon. You can always use them on web on a Mac also.
Scribens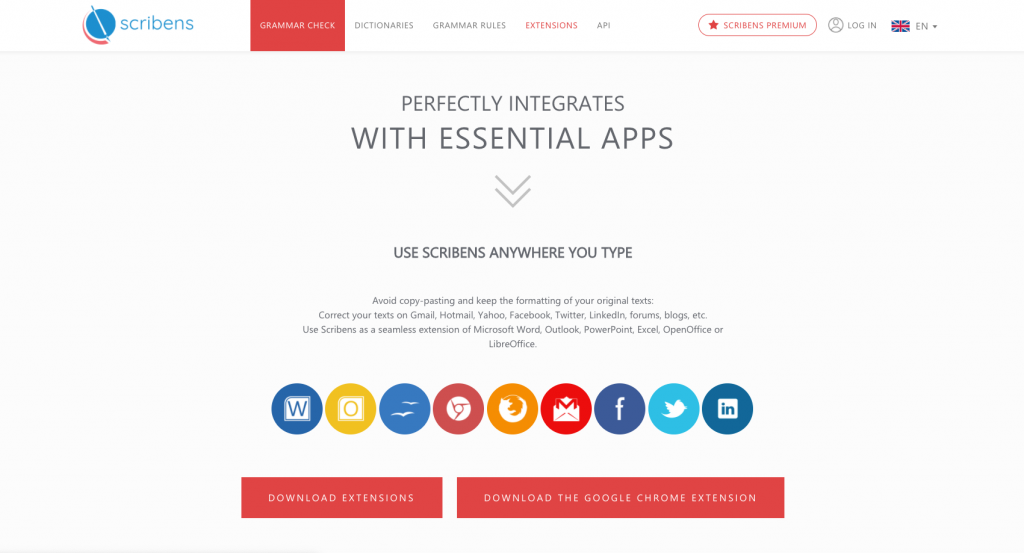 Options available: Free and paid
Chrome extension available: Yes
Scribens is a free, powerful English grammar checker that has a free web-based tool (much like Hemingway below) but also has extensions that let you edit and correct grammar across social media, email, and much more. They also detect stylistic elements and mistakes like run-on sentences and redundancies.
Overall, a powerful option.
Hemingway Writer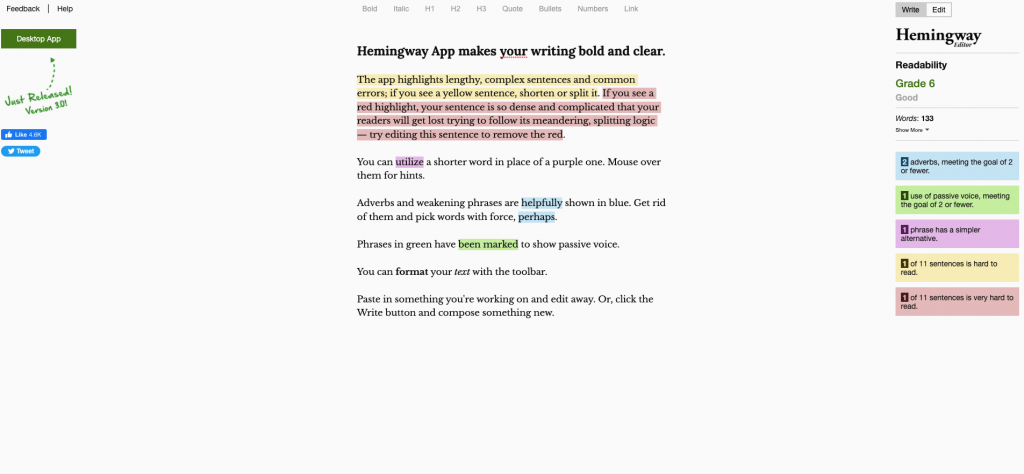 Options available: Free
Chrome extension: No
Hemingway App is a writing tool and editor that edits as you write. With both a web-based and desktop app, Hemingway is a a good option for writers who like to have edits suggested to them as they write. Hemingway checks for adverbs, passive voice, options to phrase something in a simpler way, ease of reading, and more.
I personally don't like Hemingway because I find it kills my creativity as I'm writing, but it's a fantastic free grammar editing and writing tool for after I've finished writing and want to improve it.
Looking for grammar editing services?
EditorNinja provides flat-rate unlimited grammar and copy editing services for brand content teams and content agencies. If you're ready to work with a real professional editor so you can save hours of time each week or month editing, schedule a free editorial analysis to learn more.